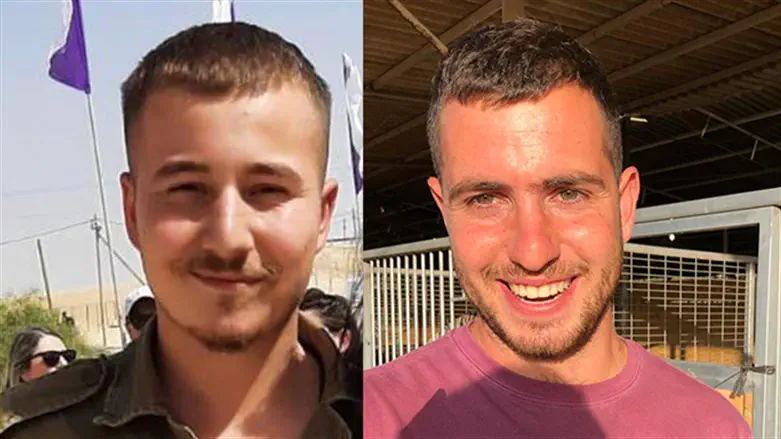 Staff sergeant Ilya Senkin and Captain (res.) Arnon Moshe Avraham Benvenisti Vaspi
IDF Spokesperson's Unit
The IDF on Tuesday morning cleared for publication the names of two soldiers who fell in battle in the northern Gaza Strip:
Captain (res.) Arnon Moshe Avraham Benvenisti Vaspi, 26, from Yesud HaMa'ala, and Staff sergeant Ilya Senkin, 20, from Nof Hagalil.
Both served in the Givati Brigade.
In addition, it was cleared for publication that five soldiers suffered serious injuries during a battle in northern Gaza.
They were evacuated for medical treatment and their families have been notified.
Prime Minister Benjamin Netanyahu and the War Cabinet on Monday evening met the families of some of the hostages being held by Hamas in Gaza. During the meeting, the members of the Cabinet heard the representatives of the families and responded to their questions.
Netanyahu told the families: "The return of the hostages is a sacred task. We have a deep commitment to it and we deal with the issue every day. We will not let up until we complete the task. I say on behalf of all of us: We are committed to this. I am responsible, along with my colleagues, for the return of the hostages."
At the conclusion of the meeting he added, "I listened to the pain of the families. We spoke heart to heart, I shared with them as much as I could about the diplomatic, intelligence and operational efforts that we are leading around the clock."
"I told the families that our hostages are always before my eyes - from the moment I get up in the morning until I go to bed late at night - all the time. We will not stop fighting until we return our hostages home, destroy Hamas and ensure that there is no more threat from Gaza," Netanyahu said.