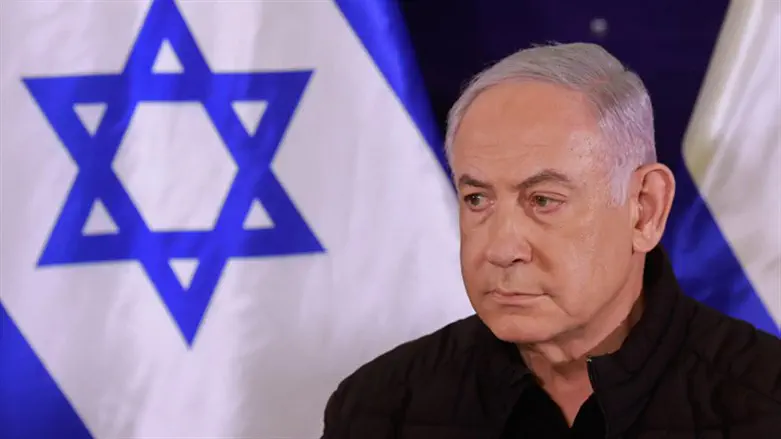 Prime Minister Benjamin Netanyahu
Marc Israel Sellem/POOL
Prime Minister Benjamin Netanyahu and the War Cabinet on Monday evening concluded their meeting with the families of the hostages being held by Hamas in Gaza. During the meeting, the members of the Cabinet heard the representatives of the families and responded to their questions.
Netanyahu told the families: "The return of the hostages is a sacred task. We have a deep commitment to it and we deal with the issue every day. We will not let up until we complete the task. I say on behalf of all of us: We are committed to this. I am responsible, along with my colleagues, for the return of the hostages."
At the conclusion of the meeting he added, "I listened to the pain of the families. We spoke heart to heart, I shared with them as much as I could about the diplomatic, intelligence and operational efforts that we are leading around the clock."
"I told the families that our hostages are always before my eyes - from the moment I get up in the morning until I go to bed late at night - all the time. We will not stop fighting until we return our hostages home, destroy Hamas and ensure that there is no more threat from Gaza," Netanyahu said.
The representatives of the families said at the conclusion of the meeting that the Prime Minister promised that no steps would be taken that could endanger their loved ones.
Udi Goren, cousin of Tal Haimi who was abducted to the Gaza Strip, left the meeting in the middle and claimed, "The feeling is that we are not viewed enough as people, as human beings. We are not talking about goals and strategies here, but about people, about communities."
On the other hand, Yitzhak Danino, brother of hostage Ori Danino, said that "we were not told anything new. I came out optimistic because I feel that the hostages are the War Cabinet's top priority."