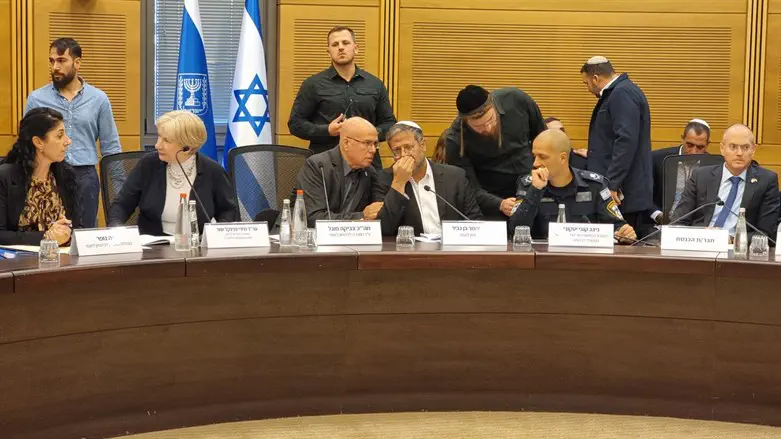 The Committee
Arutz Sheva
The Knesset National Security Ministry convened on Monday to discuss the bill to enact the death penalty on terrorists, which was submitted by the Yisrael Beitenu party and MK Limor Son Har-Melech from Otzma Yehudit. Participating in the heated discussion were relatives of hostages being held by Hamas in Gaza, who oppose passing and even discussing the legislation while their loved ones are still at the mercy of Hamas.
Committee head MK Tzvika Foghel explained: "Once did Israel enact the death penalty on Eichmann. Each one of these terrorists is Eichmann without exception, and they need to be brought to the gallows. We do not need to keep monsters who murder children and women in jail."
Gil Dickman, the representative of the hostages' families' and the cousin of Carmel Gat, who was kidnapped from Kibbutz Be'eri, stated: "Mr. Minister, I begged that you stop. Do not gain from our suffering. (You can discuss) what punishment who gets the day after (the war). Now is not the time for talk of the gallows and the death penalty. Not when the lives of our loved ones are on the table. This is a war of life and death. Be with us on the side of life, not death."
Yarden Gonen, the sister of Romi, who was abducted to Gaza, stated during the discussion: "This bill totally negates the release of the hostages while healthy. We are dealing with monsters, not with people with reason or feeling; they proved this on October 7th. Why are you giving them this tool to hang our loved ones in Gaza and make a show of it? We are dealing with the death penalty for terrorists now when we have living people there? How dare you risk their lives like this?"
Later, the voices during the meeting were raised when National Security Minister Itamar Ben-Gvir stated: "When I go from one place to the next to distribute guns, I am also thinking about my children and your children. But I also want to say Hamas did not wait for there to be a death penalty, they went to murder, torture, and to harm, to rape, even though there was no death penalty. I say this with all the love and appreciation for you: my outlook is different than yours. I think that the maneuver that we are doing proceeds the possibility of returning your loved ones."
MK Gilad Kariv (Labor) cut into Ben-Gvir's words: "This conversation did not need to be held as long as there are still hostages, you are endangering them to advance a political stance. We don't need to discuss a law that pertains to the hostages' situation. You are playing politics."
During the argument, MK Kariv was removed from the committee room.
ח"כ קריב הוצא מהדיון
צילום: ערוץ 7
At one point in the discussion, one of the family members addressed MK Almog Cohen (Otzma Yehudit), saying: "You helped. You put pressure. To kill Arabs, you killed enough Arabs!"
In response, MK Cohen, who on October 7th fought Hamas terrorists in the town of Ofakim and lost several friends, one of whom is being held hostage, stated: "What do mean 'kill Arabs?!' What is that statement? You don't have the mandate on pain. If you want to talk, then talk; don't let the small politicians mislead you."
Minister of Education Yoav Kisch expressed opposition to the committee meeting, writing on X: "The death penalty for terrorists won't pass now, it is clear to everyone. The scenes in the Knesset today are superfluous; they harm the war effort, and above all, they hurt the families of the hostages, who are in their toughest hour. Stop dealing with petty politics."
credit: יואב דודקביץ/TPS
credit: יואב דודקביץ/TPS
credit: יואב דודקביץ/TPS
credit: יואב דודקביץ/TPS
credit: יואב דודקביץ/TPS
credit: יואב דודקביץ/TPS
credit: יואב דודקביץ/TPS
credit: יואב דודקביץ/TPS
credit: יואב דודקביץ/TPS
credit: יואב דודקביץ/TPS
credit: יואב דודקביץ/TPS
credit: יואב דודקביץ/TPS