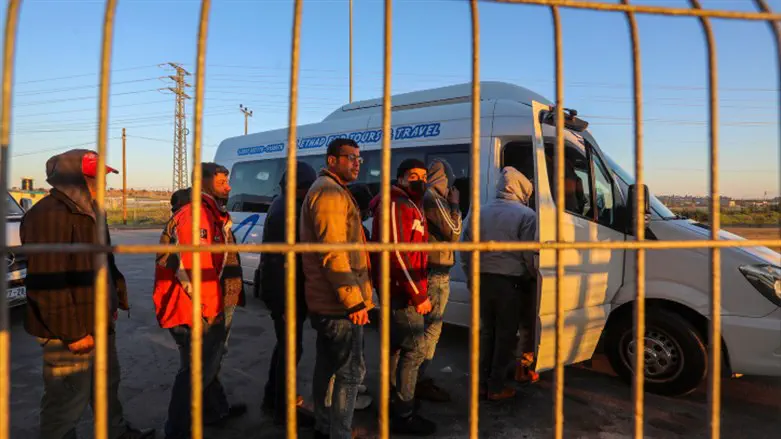 Palestinian Arab workers waiting to enter Israel
Atia Mohammed/Flash 90
Israel in recent weeks has approved the entry of 8,000 Palestinian Arab workers from Judea and Samaria.
According to a report in Kan 11 News on Monday, the move was approved by the Israel Security Agency (Shin Bet) and the IDF due to a severe shortage of workers in the country.
The workers were directed to jobs in Chevra kadisha, in hotels, some of which were populated by evacuees from the south and the north, and industrial areas.
Israel would like to increase the number of workers being permitted entry to Israel, and the Cabinet is expected to discuss the issue on Tuesday.
National Security Minister Itamar Ben Gvir clarified last week that he opposes the Ministry of Agriculture's request to approve the entry of 8,000 Palestinian Arab workers from Palestinian Authority-assigned areas of Judea and Samaria into Israel, for the purpose of working in the agricultural sector.
Ben Gvir wrote to the head of the National Security Council, Tzachi Hanegbi, that his opposition stems from concern for the security of local residents.
"After examining the matter seriously," he wrote, "taking into account the reality of these days, days of fighting, the interest in preserving human life prevails, therefore the minister's position remains the same - not to allow the bringing in of Palestinian workers from Judea and Samaria."
Ben Gvir said his position is supported by Police Commissioner Kobi Shabtai, who believes that it would be inappropriate at this time to bring in Palestinian Arab workers into Israel.
Agriculture Minister Avi Dichter's request stated that the workers in question are permanent workers that the employers already know and warned that if their entry is not approved, the agriculture industry would collapse.