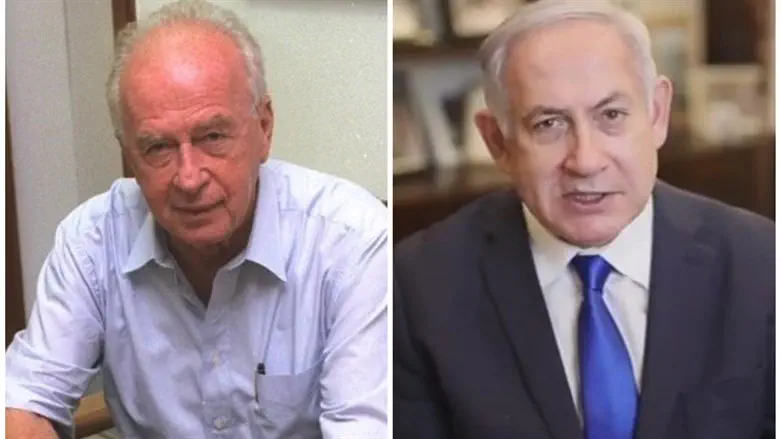 Yitzhak Rabin and Benjamin Netanyahu
Prime Minister's Office, Zvika Yisraeli/GPO
The Prime Minister's Office has in recent days been updating the relevant parties that Prime Minister Benjamin Netanyahu will not attend the state memorial ceremony in memory of the late Prime Minister Yitzhak Rabin, which will be held on the Hebrew date of the murder, the 12th of Cheshvan, and therefore there is no need to reserve a spot for him among the honorees, Channel 12 News reported on Monday.
The report noted that that this is not the first time that Netanyahu has decided not to attend this ceremony. In 2021, when he was the leader of the opposition, Netanyahu made a similar decision, citing the fact that the previous year, in 2020, the ceremony was used as a platform for political sparring and his participation was used to attack him politically.
Last year at this time, Netanyahu had won the elections, but had not yet been sworn in as Prime Minister, so he did not attend the ceremony.
Sources close to the Prime Minister confirmed the report and said, "A final decision has not yet been made, but most likely the Prime Minister will only come to the official ceremony in the Knesset. Unfortunately, the event on Mount Herzl has been politicized, instead of preserving the nonpartisanship of this day."
Labor chairwoman Merav Michaeli said in response, "For a change, a good decision by Netanyahu. There is no reason for the man who incited against Rabin to attend the memorial service for Rabin's murder. The ceremony will be more dignified and statesmanlike without him."