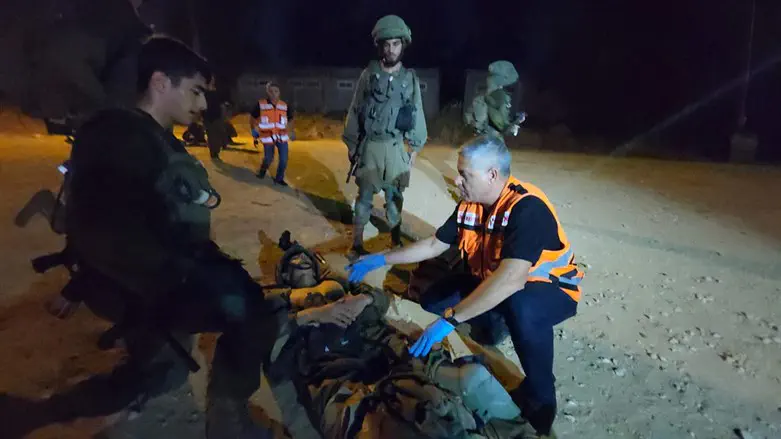 United Hatzalah and the IDF hold a joint drill
United Hatzalah
Last week, a joint drill simulating the emergency medical response to a shooting attack with multiple casualties was conducted by medical teams from the Paratroopers' Elite unit (Sayeret Tzanchanim) and United Hatzalah.

The drill was planned due to the current wave of terror attacks, during which IDF medics often collaborate with civilian medical personnel. The roles of these teams vary slightly, with military EMTs being authorized to enter the area during an active security incident, while civilian first responders in most cases must wait until the active incident concludes and the "all clear" directive has been given by security forces.

David Krispil, who serves as the deputy to the Vice President of Operations of United Hatzalah and is also the commander of a medical team in the Paratroopers' Elite unit during his reserve IDF service, provided insights into the exercise.
Krispil explained, "The drill took place late at night and began with military medical personnel providing initial treatment to the injured. Subsequently, United Hatalah volunteers joined the effort, and the organization's ambulances practiced transporting the simulated injured individuals to the hospital."

President and Founder of United Hatzalah Eli Beer added, "We hold these collaborative training drills in order to learn lessons from one another and make both teams better in the field and increase a higher level of cooperation and smooth interface between our organization and the IDF. When a real-life incident occurs, often the responders on both sides have very little time to think and our auto-pilot kicks in. What we have trained and know well, will stick with us - the rest may get forgotten or dropped. These drills are of utmost importance in order to optimize the success of rescue operations and increase our joint collaboration in the field in an effort to save more lives, faster."

Krispil concluded by saying: "Both sides considered the drill successful. These drills will enhance coordination between military medical personnel and civilian medical teams in real-life scenarios, and we look forward to continuing our operational partnership with one another in the future."