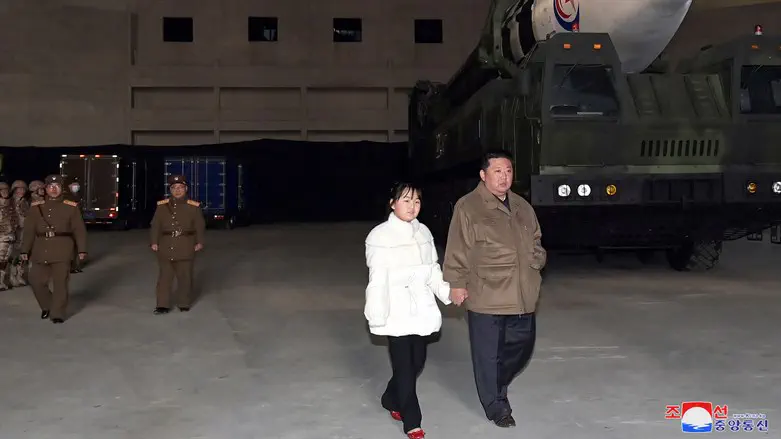 North Korean leader Kim Jong Un, along with his daughter, inspects an ICBM in th
KCNA via REUTERS
North Korea plans to launch a satellite between August 24 and 31 in the direction of the Yellow Sea and East China Sea, the Japanese Coast Guard said on Tuesday, according to Reuters.
Japan would cooperate with South Korea and the United States to monitor the launch, Prime Minister Fumio Kishida's office wrote on Twitter.
The Coast Guard added that the satellite, if launched, was likely to fall outside of Japan's exclusive economic zone.
North Korea launched a satellite on May 31 that ended up plunging into the sea. The North said the botched satellite launch had been the "gravest failure" and announced it will be preparing for another launch in the near future.
The flight was the nuclear-armed state's sixth satellite launch attempt, and the first since 2016. It was supposed to put North Korea's first spy satellite into orbit.
North Korea has upped its provocations in recent months. The country tested dozens of ballistic weapons in 2022, including its first intercontinental ballistic missiles since 2017.
In July, North Korea test-fired a Hwasong-18 solid-fuel intercontinental ballistic missile (ICBM), in a launch that was supervised by its leader Kim Jong Un.
Last week, Kim dismissed the military's top general and called for more preparations for the possibility of war, a boost in weapons production, and expansion of military drills.
Days later, the North Korean leader visited key military factories, including a tactical missile production plant, and "presented a significant goal" to improve missile production.