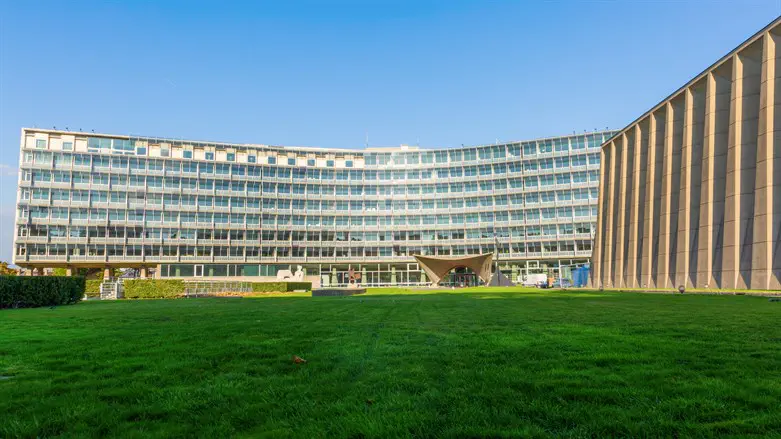 UNESCO headquarters in Paris
iStock
The United Nations' scientific, educational and cultural organization (UNESCO) on Friday agreed to readmit the United States as a member, The Associated Press reported.
UNESCO's governing board voted 132-10 to accept the US proposal to rejoin the Paris-based agency. America's membership will become official once Secretary of State Antony Blinken or a designee formally accepts the invitation, according to Biden administration officials.
Russian, Palestinian Arab and North Korean representatives had held up consideration of the US proposal on Thursday with hours of procedural delays, according to AP. That session was adjourned due to fatigue on the part of UNESCO interpreters.
Russia, North Korea and the Palestinian Authority voted against readmitting the US, alongside Belarus, China, Eritrea, Indonesia, Iran, Nicaragua and Syria.
The US earlier this month notified UNESCO that it has decided to rejoin the agency, after the Trump administration announced it was withdrawing US membership.
Israel withdrew from UNESCO in 2019, after the US made a similar announcement, over the agency's anti-Israel bias.
US officials say the decision to return was motivated by concern that China is filling the gap left by the US in UNESCO policymaking, notably in setting standards for artificial intelligence and technology education around the world.
In late 2021 it was reported that the Biden administration is pressuring Israel to renew its membership in UNESCO. Last year, it was that Israel has withdrawn its opposition to a US return to UNESCO.
Two months later, US Secretary of State Antony Blinken said that Israel has no objections to a US return to the UN cultural agency.
The Biden administration had requested $150 million for the 2024 budget to go toward UNESCO dues and arrears. The plan foresees similar requests for the ensuing years until the full debt of $619 million is paid off.
That makes up a big chunk of UNESCO's $534 million annual operating budget. Before leaving, the US contributed 22% of the agency's overall funding.
Israel had a contentious relationship with UNESCO, which has approved several anti-Israel resolutions in recent years.
In 2018, the UN agency approved a resolution declaring that the Cave of the Patriarchs in Hebron and Rachel's Tomb in Bethlehem are "an integral part of the Occupied Palestinian territory."
Previous resolutions referred to the Jewish state as "the occupying power" in Jerusalem. Another declared the Old City of Hebron as a "Palestinian World Heritage site".
In 2016, UNESCO passed resolutions declaring that Israel has no rights to Jerusalem, and describing the Temple Mount and Old City of Jerusalem as Muslim holy sites.
(Israel National News' North American desk is keeping you updated until the start of Shabbat in New York. The time posted automatically on all Israel National News articles, however, is Israeli time.)