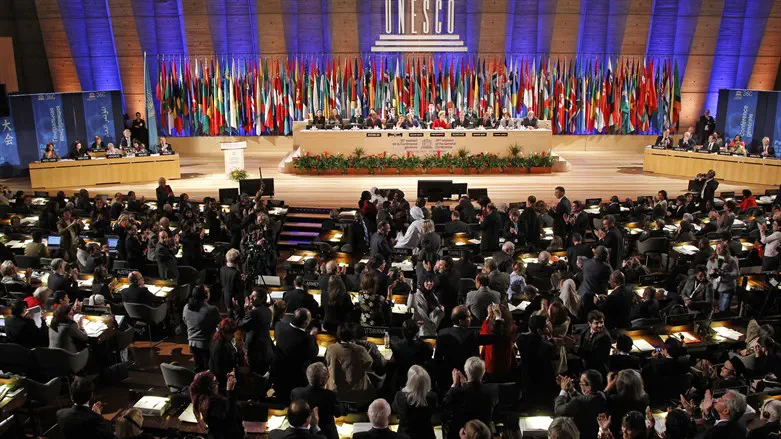 UNESCO
Benoit Tessie, Reuters
The Heritage Committee of the UN Educational, Scientific and Cultural Organization (UNESCO) announced on Sunday that one of the newest entries on the organization's list of global heritage sites is Tel a-Sultan in Jericho.
The UNESCO member states decided that the tel will be considered a "Palestinian world heritage site." The decision was made in a vote that took place in Riyadh, Saudi Arabia. The UN clarified that there are Jewish and Christian sites near the site that are not included in the list - but there is a value to protect them.
Tel a-Sultan, also known as Tel Jericho, is the central tel in the city. It sits at 21 meters above its surroundings and is 40 dunams wide. It includes many archaeological findings, including the round tower of Jericho, which is 8.50 meters wide, and what remains of it is 7.70 meters tall. The first settlement of the tel is estimated to be in 9500 BCE.
The Israeli Foreign Ministry was infuriated by the decision, which, according to them, was made despite the many true efforts by UNESCO Director-General Audrey Azoulay, and stated that they "see the decision as another sign of the Palestinians' cynical use of UNESCO and the politicization of the organization. Israel will work with its many allies in the organization to change the distorted decisions that were made."
MK Dan Illouz (Likud) reached out to the UNESCO CEO this week and asked her to prevent the classification of ancient Jericho as a Palestinian heritage site, but sources in the Foreign Ministry say "UNESCO's decision is not related to the Israel-Palestinian conflict and it is a shame to present it as such. It is a professional decision related to an ancient site from over 11 thousand years ago."