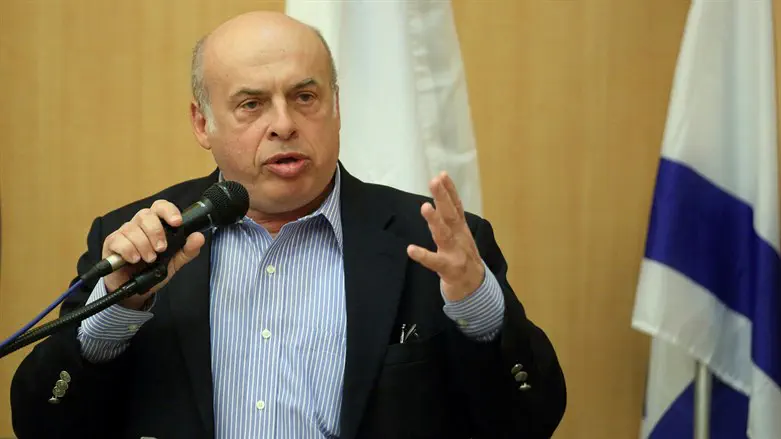 Natan Sharansky
Hillel Maeir/TPS
Former minister and Israel Prize laureate Natan Sharansky on Friday responded to Russian President Vladimir Putin, who lashed out at Ukrainian President Volodymyr Zelenskyy and claimed that that "Zelenskyy is not even Jewish".
"Ukrainians can be proud of the fact that they elected a Jewish president," said Sharansky, who added, "Zelenskyy unites the Ukrainian people against barbaric aggression, and we Jews can be proud that a representative of our people plays a historic and significant role in uniting the whole world for the sake of protecting our future."
The comments came hours after Putin, during a conference, was asked why he continues to call Zelenskyy a "Nazi".
"I have many Jewish friends since childhood. They say Zelenskyy is not a Jew – he is a disgrace to the Jewish people," the Russian President responded.
This is not the first time that Russian leaders have caused an uproar in relation to Zelenskyy being Jewish, as Moscow has repeatedly sought to frame its invasion of Ukraine as an effort to "denazify" the country.
Russian Foreign Minister Sergei Lavrov came under fire last May when he said that Nazi leader Adolf Hitler had Jewish blood.
In an interview with an Italian news channel, Lavrov referred to the fact that Zelenskyy is Jewish and said, "In my opinion, Hitler also had Jewish origins, so it doesn't mean absolutely anything. For some time we have heard from the Jewish people that the biggest antisemites were Jewish."
Zelenskyy said in response that Lavrov's comments show that Moscow "has forgotten all the lessons of World War II or perhaps never learned them."
In January of this year, Lavrov again made headlines as he compared the United States' and the West's approach to Russia with the Nazis' effort to eradicate the Jewish people during the Holocaust.
"They are waging war against our country with the same task: the 'final solution' of the Russian question," Lavrov said, adding, "Just as Hitler wanted a 'final solution' to the Jewish question, now, if you read Western politicians … they clearly say Russia must suffer a strategic defeat."
Those comments were criticized by the White House, with national security spokesman John Kirby saying, "Our first reaction is how dare he compare anything to the Holocaust, anything. Let alone a war that they started. It's almost so absurd that it's not worth responding to, other than the truly offensive manner in which he tried to cast us in terms of Hitler and the Holocaust."
The High Representative of the European Union for Foreign Affairs and Security Policy, Josep Borrell, also condemned Lavrov's remarks.
(Israel National News' North American desk is keeping you updated until the start of Shabbat in New York. The time posted automatically on all Israel National News articles, however, is Israeli time.)