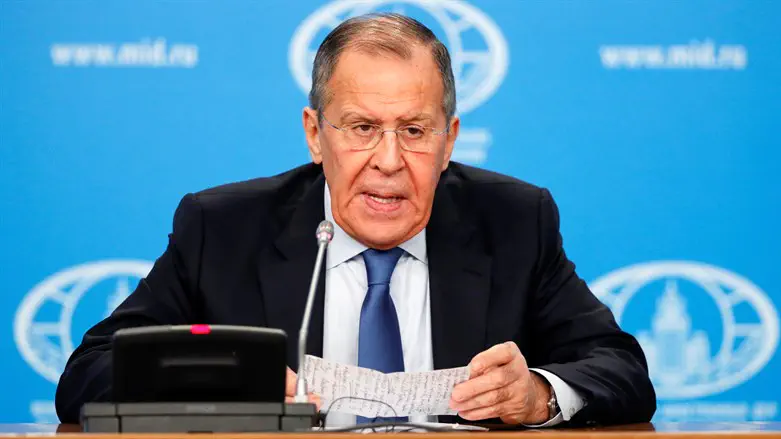 Sergei Lavrov
Reuters
High Representative of the European Union for Foreign Affairs and Security Policy Josep Borrell condemned Russian Foreign Minister Minister Sergei Lavrov, after he compared the United States' and the West's approach to Russia with the Nazis' effort to eradicate the Jewish people during the Holocaust.
"Contemporary Europe was built on the ashes of the Holocaust; it is a defining, terrible legacy of European history. This is why next week, we will commemorate the annual International Holocaust Remembrance Day.," Borrell said.
"Latest comments by Russian Foreign Minister Lavrov accusing "The West" of seeking a "final solution" for Russia are entirely misplaced, disrespectful and trample on the memory of the six million Jewish people, and other victims, who were systematically murdered in the Holocaust. This adds to previous antisemitic remarks of Minister Lavrov.
"The Russian regime's manipulation of the truth to justify their illegal war of aggression against Ukraine has reached another unacceptable and despicable low point.
"There is no parallel between the crimes of Nazi Germany and the international help for Ukraine in defending its territory and people against an unjustified aggression. Russia has invaded a sovereign neighboring country, targets and kills civilians there on a daily basis, with the stated aim to destroy the country and the Ukrainian nation.
"Holocaust denial, distortion and trivialization are against EU law and EU values. The EU made the unequivocal commitment to ensure that such atrocities never happen again," Borrell concluded.
On Wednesday, Lavrov accused the US of attempting to form a coalition of European countries to solve the "Russian question", a reference to the Nazis' plan for the genocide of the Jewish people during World War II, known as the "Final Solution."
"They are waging war against our country with the same task: the 'final solution' of the Russian question," Lavrov said, as quoted by Reuters.
"Just as Hitler wanted a 'final solution' to the Jewish question, now, if you read Western politicians … they clearly say Russia must suffer a strategic defeat," he added.
Moscow has repeatedly sought to frame its invasion of Ukraine as an effort to "denazify" the country.
Lavrov previously came under fire last May when he said that Nazi leader Adolf Hitler had Jewish blood.
In an interview with an Italian news channel, Lavrov referred to the fact that Ukraine's President, Volodymyr Zelenskyy, is Jewish and said, "In my opinion, Hitler also had Jewish origins, so it doesn't mean absolutely anything. For some time we have heard from the Jewish people that the biggest antisemites were Jewish."