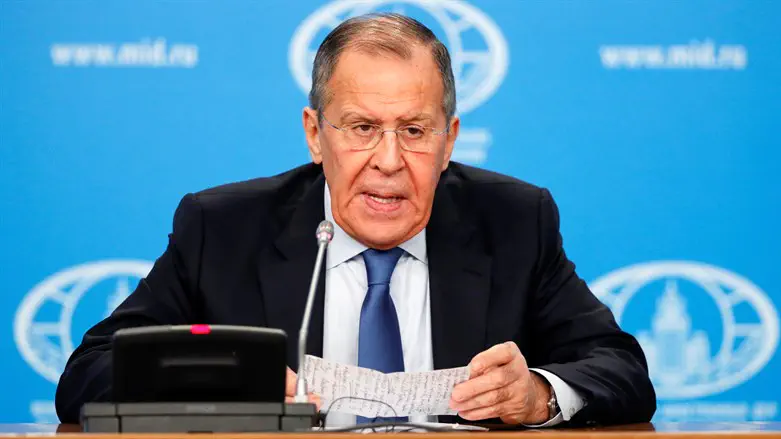 Sergei Lavrov
Reuters
The White House on Wednesday blasted Russian Foreign Minister Sergei Lavrov, after he compared the United States' approach to Russia with the Nazis' effort to eradicate the Jewish people during the Holocaust.
"Our first reaction is how dare he compare anything to the Holocaust, anything. Let alone a war that they started," White House national security spokesman John Kirby said at a briefing, as quoted by The Hill.
"It's almost so absurd that it's not worth responding to, other than the truly offensive manner in which he tried to cast us in terms of Hitler and the Holocaust," added Kirby.
Earlier on Wednesday, Lavrov accused the US of attempting to form a coalition of European countries to solve the "Russian question", a reference to the Nazis' plan for the genocide of the Jewish people during World War II, known as the "Final Solution."
"They are waging war against our country with the same task: the 'final solution' of the Russian question," Lavrov said, as quoted by Reuters.
"Just as Hitler wanted a 'final solution' to the Jewish question, now, if you read Western politicians … they clearly say Russia must suffer a strategic defeat," he added.
Moscow has repeatedly sought to frame its invasion of Ukraine as an effort to "denazify" the country.
Lavrov previously came under fire last May when he said that Nazi leader Adolf Hitler had Jewish blood.
In an interview with an Italian news channel, Lavrov referred to the fact that Ukraine's President, Volodymyr Zelenskyy, is Jewish and said, "In my opinion, Hitler also had Jewish origins, so it doesn't mean absolutely anything. For some time we have heard from the Jewish people that the biggest antisemites were Jewish."
Zelenskyy said in response that Lavrov's comments show that Moscow "has forgotten all the lessons of World War II or perhaps never learned them."
"I have no words...No one has heard any denial or any justification from Moscow. All we have from there is silence.... this means that the Russian leadership has forgotten all the lessons of World War II," he said in his nightly video message.
"Or perhaps they have never learned those lessons," he added.
At the time, the Israeli Foreign Ministry announced that it had summoned Russian Ambassador Anatoly Viktorov for "clarification" in response to Lavrov's comments, and then-Prime Minister Naftali Bennett chided Lavrov, calling his comparison of Russia's invasion of the Ukraine to the war against Nazi Germany "untrue".
World Jewish Congress President Ronald S. Lauder also condemned Lavrov's comments.