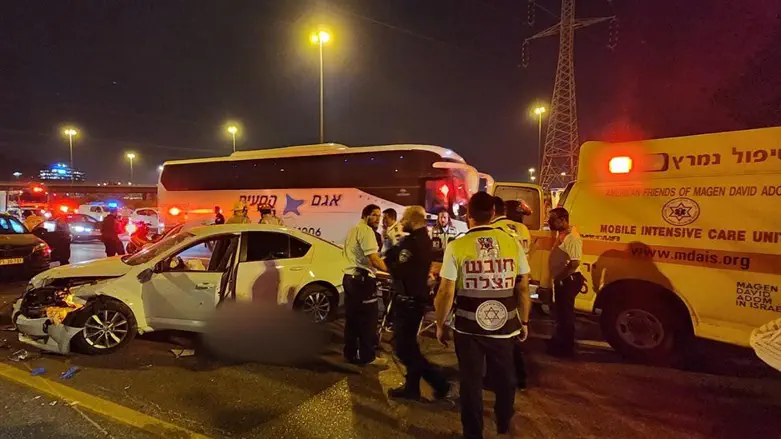 Driver shot on the road loses control of vehicle
Magen David Adom
A man of about 30 died Thursday night during a car chase near Kafr Qassem on Route 5. At the same time, a man of 33 suffered moderate injuries as a result of gunshots fired from another vehicle.
The driver, who was shot dead, lost control of his vehicle and caused a collision with another vehicle. A woman traveling in that vehicle suffered light injuries. In the dead man's vehicle, an object was found which is suspected to be an explosive device.
Police intelligence estimates that the murder earlier on Thursday in Yafa an-Naseriyye will lead to acts of revenge in the immediate future.
According to Kan News, hundreds of police officers will be placed throughout Yafa an-Naseriyye, Nazareth, and Umm al-Fahm, which are the central locations for violence between criminal organizations.
An investigation of the murder showed that there were two assassins who fired using automatic weapons. The two escaped in a Hyundai vehicle. The vehicle which was found in flames near the scene was a Lexus, and police are now searching for the Hyundai and examining the connection to the burning vehicle, and if assistants to the assassins were traveling in it.