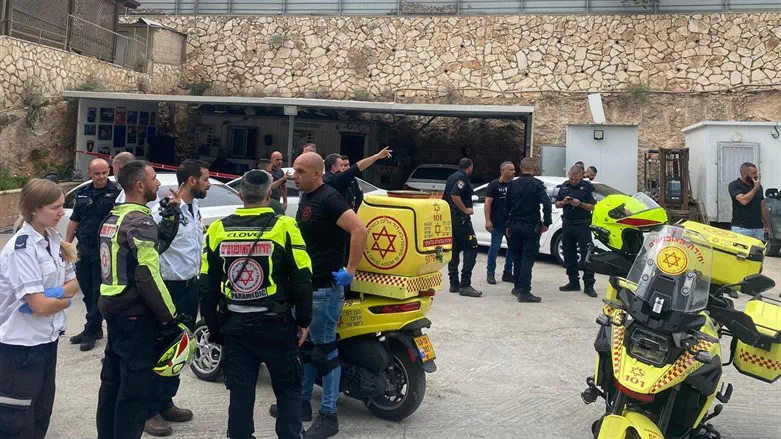 Scene of the murder in Yafa an-Naseriyye
Magen David Adom
Five people were murdered and two others moderately injured in a shooting incident in Yafa an-Naseriyye in northern Israel.
The injured were evacuated to the English Hospital in Nazareth, where the doctors declared the deaths of five of them.
Israel Police Commissioner Kobi Shabtai is on his way to the scene, as is National Security Minister Itamar Ben-Gvir (Otzma Yehudit).
The shooting took place in a car wash, and police believe the incident to be criminal in nature.
Magen David Adom (MDA) paramedics A'ataf Salam and Maor Atgadi said, "We arrived at the scene with a large force, and we saw that the scene was a very difficult one. Five injured people lay unconscious and suffering serious wounds to their bodies. We brought the injured to ambulances and mobile ICUs and evacuated them to the hospital in critical condition."
An hour earlier, a three-year-old girl was severely injured by a stray bullet in a violent incident in the Arab town of Kafr Kanna. MDA staff provided the girl with medical aid and evacuated her to the Poriya Medical Center.
A man of about 30 also suffered serious injuries in that incident, and he was also evacuated to the hospital.
In the past year, the number of deaths in the Arab sector has tripled. According to the Abraham Initiatives, since January, 90 Arabs have died in incidents of violence and crime. Of these, 79 of the victims were shot dead, and 41 of them were less than 30 years old at the time they were killed.