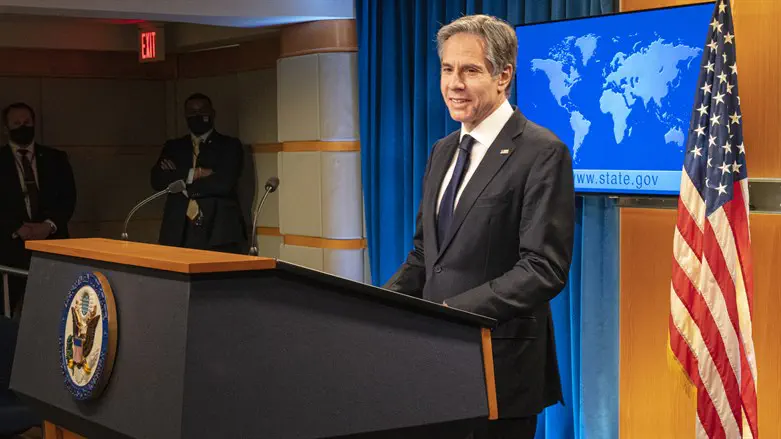 US Secretary of State Antony Blinken
State Department Photo by Freddie Everett
US Secretary of State Antony Blinken told diplomats on Wednesday that the United States remains committed to its Gulf Arab partners, AFP reported.
Blinken spoke during a Gulf Cooperation Council ministerial meeting in the capital Riyadh following talks with Saudi Foreign Minister Prince Faisal bin Farhan and the kingdom's de-facto ruler, Crown Prince Mohammed bin Salman.
"The United States is in this region to say we remain deeply invested in partnering with all of you," Blinken was quoted as having said at the opening of the US-GCC ministerial meeting on strategic partnership.
"The GCC is the core of our vision for a Middle East that is more stable, more secure, more prosperous," he added.
The comments come a day after Blinken met in Jeddah with Crown Prince and Prime Minister Mohammed bin Salman.
Following the meeting, a US official quoted by Reuters said that Blinken and the Saudi Crown Prince had an "open, candid" discussion and had discussed, among other things, Riyadh's potential normalization of ties with Israel.
"There was a good degree of convergence on potential initiatives where we share the same interests, while also recognizing where we have differences," the US official said, adding that the meeting lasted for an hour and forty minutes.
Blinken told the American Israel Public Affairs Committee (AIPAC) Policy Summit on Monday he will discuss normalization between Saudi Arabia and Israel during the trip.
Earlier this week, officials in Riyadh told the Israel Hayom newspaper that normalization with Israel is still on the table despite the recent reconciliation agreement between Saudi Arabia and Iran.
Israel has been for years rumored to have behind-the-scenes ties with Saudi Arabia, but the Saudis have vehemently denied those rumors.
Prime Minister Benjamin Netanyahu has made clear that his goal is to achieve a peace agreement with Saudi Arabia that would "effectively end the Arab-Israeli conflict."
However, Saudi officials have repeatedly said that a Palestinian state with eastern Jerusalem as its capital is a prerequisite for Saudi Arabia normalizing ties with Israel.