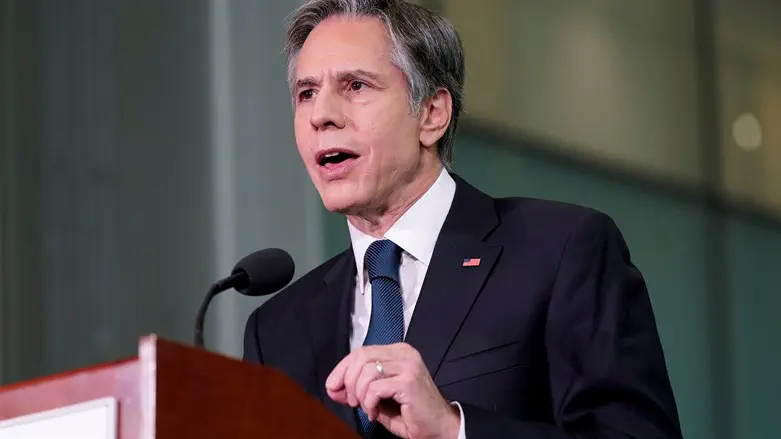 Antony Blinken
צילום: רויטרס
US Secretary of State Antony Blinken says he will discuss normalization between Saudi Arabia and Israel on his upcoming visit to Riyadh.
"The United States has a real national security interest in promoting normalization between Israel and Saudi Arabia. We believe we can, and indeed we must play an integral role in advancing it," Blinkin told the American Israel Public Affairs Committee (AIPAC) Policy Summit on Monday.
The Secretary of State was clear that the process would not be quick but added that the US is committed to it. "We have no illusions that this can be done quickly or easily, but we remain committed to working towards that outcome, including on the trip I'm about to take this week to Jeddah and Riyadh for engagements with our Saudi and Gulf counterparts," he said, explaining that "a more integrated, prosperous, and stable region serves the interest of Israel, it serves the interests of our regional partners, it serves the United States."
Blinken added that "integration and normalization efforts are not a substitute for progress between Israelis and Palestinians, nor should they come at its expense."
Blinken will travel to Saudi Arabia on Tuesday to meet with Saudi officials to discuss U.S.-Saudi strategic cooperation on regional and global issues and a range of bilateral issues, including economic and security cooperation.
According to the State Department, during his trip, the Secretary will participate in a US-Gulf Cooperation Council (GCC) Ministerial to discuss the growing cooperation with our GCC partners to promote security, stability, de-escalation, regional integration, and economic opportunities across the Middle East.
He will co-host a Ministerial meeting of the Global Coalition to Defeat ISIS with Saudi Foreign Minister Faisal bin Farhan in Riyadh to highlight the critical role played by the D-ISIS Coalition to address the continuing threat of ISIS and reaffirm our commitment to ensure its enduring defeat.