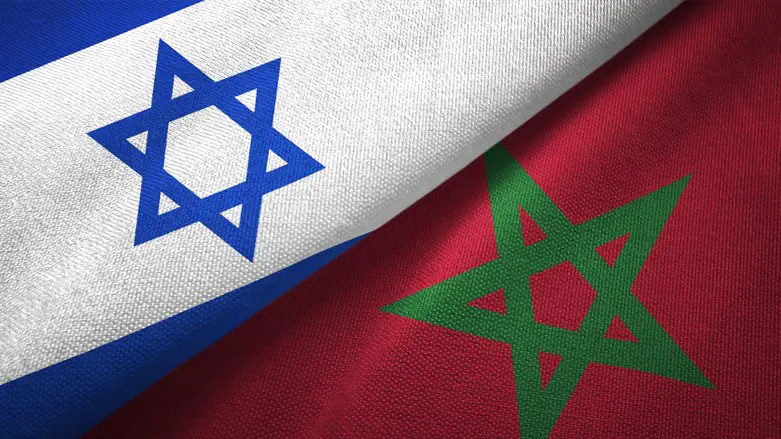 Flags of Israel and Morocco
iStock
National Security Advisor Tzachi Hanegbi visited Rabat on Wednesday, as officials quoted by Reuters said the Israeli government mulls a possible announcement of recognition of Morocco's sovereignty over Western Sahara.
A diplomatic source told Reuters that such a move by Israel could lead to a full upgrade of bilateral ties, with the countries' respective missions, currently designated as liaison offices, becoming economic embassies, and a free-trade pact possible down the line.
The Foreign Ministry declined to comment on the issue, but a source in Prime Minister Benjamin Netanyahu's cabinet acknowledged it was being discussed within the National Security Council.
Then-US President Donald Trump agreed to recognize Morocco's sovereignty over the Western Sahara as part of the 2020 deal in which Morocco became the fourth Arab country to normalize ties with Israel.
The United States later adopted a new official map of Morocco that includes Western Sahara.
In January, Barak Ravid of Axios reported that Morocco has started to link the opening of an embassy in Tel Aviv to formal recognition by the Israeli government of its sovereignty in Western Sahara.
The Polisario Front, which seeks independence for Western Sahara, has condemned "in the strongest terms" the US recognition of the Moroccan sovereignty over Western Sahara.
Algeria, Morocco's neighbor which is the key foreign backer of the Polisario Front, also criticized its neighbor's deal with Israel, with its Prime Minister saying, "There is now a desire by the Zionist entity to come closer to our borders."
Morocco's foreign ministry said on Wednesday that Hanegbi, during his visit to the country, met Moroccan foreign minister Nasser Bourita, Morocco's foreign ministry said without offering further details.
A statement by Netanyahu's office said the officials discussed "strengthening cooperation between the two countries in the areas of statecraft and security".
The head of Israel's diplomatic mission in Rabat said on Tuesday that the Israeli and Moroccan foreign ministries were discussing Western Sahara and "the final decision will be a decision made by both our ministers."