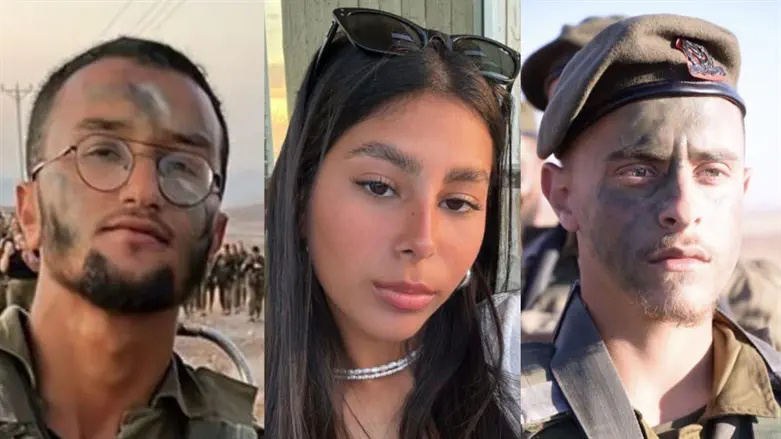 Uri Yitzhak Iluz (L), Lia Bin-Nun (C), and Ohad Dahan (R)
IDF spokesperson
Israeli Prime Minister Benjamin Netanyahu on Tuesday morning spoke on the phone with Egyptian President Abdel Fattah El-Sisi regarding the recent terror attack on the Israel-Egypt border, which left three IDF soldiers dead.
Following the attack, the terrorist, an Egyptian policeman, was identified and eliminated. His body was returned to Egypt on Monday.
During the phone call, El-Sisi expressed deep condolences for the incident on the border. Netanyahu thanked him for the condolences, and for his commitment to thoroughly investigating the incident in cooperation with Israel.
A statement from Netanyahu's office said that the two leaders expressed their mutual commitment to continue strengthening peace and security cooperation, which is crucial for both countries.
A spokesperson for the Presidential Palace in Cairo, Ahmad Fahmi, said that Netanyahu called El-Sisi and the two spoke about the shooting incident on the border. Fahmi also said that, "The two leaders emphasized the importance of full coordination between the countries, and the joint effort to achieve peace and preserve stability in the region."
On Sunday, Netanyahu said during a cabinet meeting that Israel sent a "clear message to Egypt" that it expects the joint inquiry to be exhaustive and thorough.
"We will come to all the necessary conclusions concerning our operations along the fence on the Israel-Egypt border," Netanyahu added. "We will refresh the procedures, as well as the modes of operation, and the means to reduce smugglings to a minimum and to ensure that tragic attacks such as these won't repeat themselves."