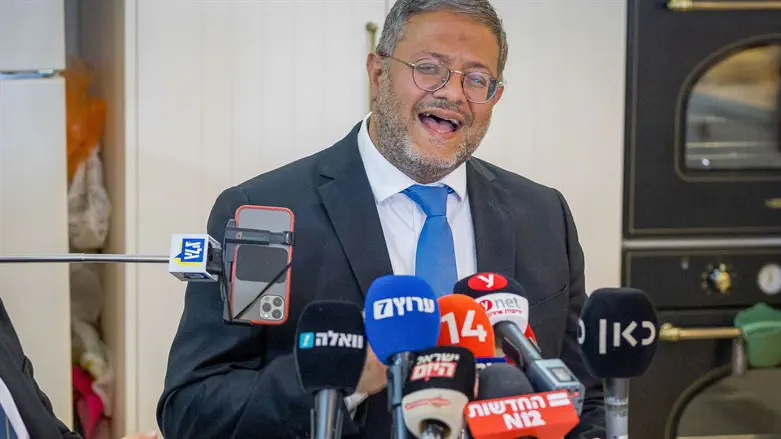 Itamar Ben-Gvir
Flash 90
National Security Minister Itamar Ben-Gvir is suing the leftist Gilad Sadeh for half a million shekels after he claimed that when he was 14, Ben-Gvir ordered him to sabotage UN vehicles and create a diplomatic incident. Ben-Gvir claims that this is a "false and delusional story."
In the statement of claim, it is alleged against Sadeh that "from his childhood, the defendant became a particularly violent and extreme activist, in his desire to prove that he is a Jew loyal to his ways. This was manifested in the fact that he acted with severe physical and verbal violence against Arabs, bragging at every opportunity that he is the son of Tyran Polak, who is the 'terror of the Arabs' , and even behaved violently towards Jews who do not hold his extreme views (including right-wing people). In addition, the defendant would attack policemen, burn vehicles, throw stones, puncture tires, and commit property crimes even without connection to right-wing activity."
The lawsuit further details that when he was 19 years old, Sadeh married a 16-year-old girl, fathered two children with her, divorced her, abandoned the children, and fled abroad without paying child support: "During his stay abroad, suddenly, the defendant changed his mind and started to adopt extreme left-wing positions, in actions against the State of Israel and under organizations that work against the State. The defendant made it his goal to harm key figures from the political right side of the map. This is reflected, among other things, in the false and delusional stories he wrote in the publications discussed in this lawsuit."
Minister Ben-Gvir demands compensation from Sheda for the intent to cause bodily harm and for the damage caused as a result of the false publications.
Minister of National Security Itamar Ben-Gvir commented: "Gilad Sadeh is a person who has set himself the goal of defaming the State of Israel in the world, and in particular the defamation of right-wing people. The days are over when the extreme left and the BDS movement defame Israel and do not pay for it. To the absurd lies and slander spread by this extreme and dangerous person against me - with the help of God, there will be a price in court."