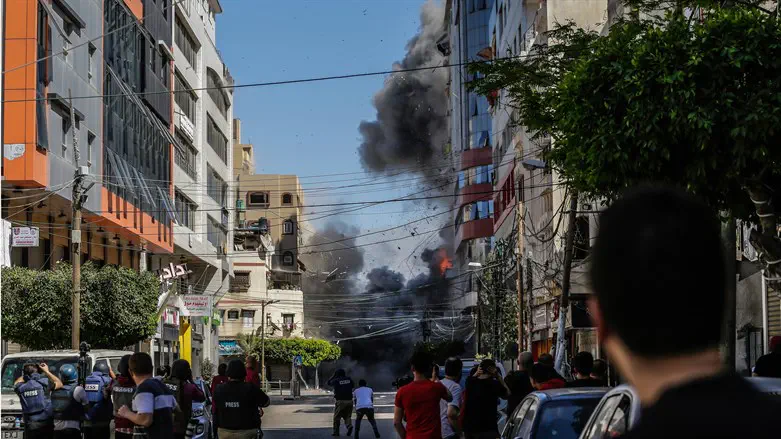 Gaza
Reuters
A military court in the Gaza Strip has sentenced several Palestinian Arabs who were convicted of providing information to Israel to be executed by hanging and by firing squad.
According to a report in the Ma'an news agency, one of the convicts made contact with Israel at the Erez crossing, where he met with an Israeli intelligence officer who offered him information in exchange for a work permit in Israel. The convict agreed, and began to transmit information about terrorist operatives, their telephone numbers and places of residence, as well as the location of tunnels, communication networks and the location of military posts.
Another convict was recruited to serve as an informant for Israeli intelligence in 2000 and is accused of passing information about terrorist operatives and the location of targets of terrorist organizations. In addition, in accordance with the request of the Israeli intelligence, he opened a company to sell cars, and in this framework he imported cars in which eavesdropping devices were installed, and these were sold to terrorist operatives.
The third convict was accused of having been recruited in 2001 to serve as an informant for Israeli intelligence in exchange for a work permit in Israel, and he also provided information on the rocket array of the terrorist organizations.
The fourth convict was recruited in 2011 to serve as an informant for Israeli intelligence and provided information about terrorist organizations in exchange for money.
Hamas regularly claims to have captured "Israeli spies", and many times it tries them and sentences them to death.
In October of 2021, Hamas sentenced six Palestinian Arab "informants" to death for collaborating with Israel.
In September of last year, Hamas authorities executed two Palestinian Arabs who were convicted of assisting Israel by giving it information that resulted in the deaths of two people.
In theory all execution orders in the Palestinian Authority's (PA) territories must be approved by PA chairman Mahmoud Abbas, who is based in Ramallah and who imposed a moratorium on executions several years ago.
Hamas no longer recognizes Abbas' legitimacy, and has in the past emphatically declared that the death penalty in Gaza can be carried out without his consent.