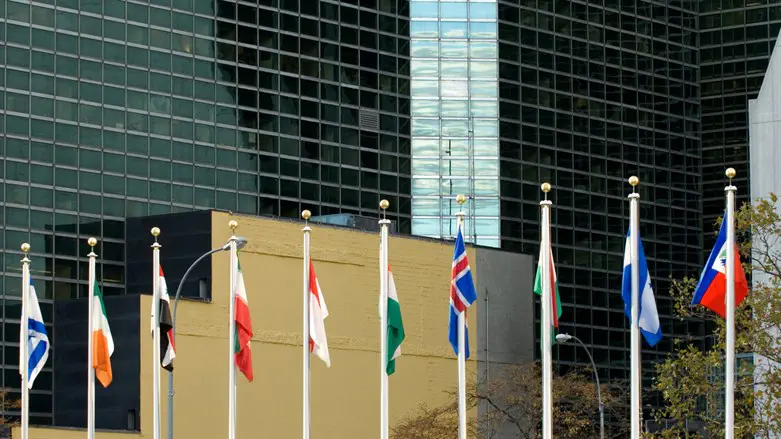 United Nations headquarters
iStock
A senior United Nations official on Monday condemned the Gaza Strip's Hamas terrorist rulers after they sentenced several locals to death over "collaborating" with Israel.
"Yesterday, the military appeal court in Gaza upheld six death sentences and converted a life sentence to one of death - all against civilians. In addition to these sentences, in 2023, the courts of appeal and cassation have upheld nine other death sentences. In 2022, 21 death sentences were issued. The authorities in Gaza have executed five men sentenced to death in 2022," tweeted Lynn Hastings, the UN's Humanitarian Coordinator for Palestinian Authority-assigned areas.
"The death sentence should be abolished as per international obligations and rights to a fair trial of all persons being prosecuted be guaranteed," she added.
Her comments came a day after a military court in the Hamas-ruled Gaza Strip sentenced seven people to death by hanging for "collaboration" with Israel.
The court also sentenced seven others to "life imprisonment with hard labor", which in Gaza amounts to 25 years, the Hamas-run "interior ministry" said in a statement.
Hamas, which took over the Gaza Strip in a bloody coup in 2007, regularly claims to have captured "Israeli spies", and many times it tries them and sentences them to death.
In September of last year, Hamas authorities executed two Palestinian Arabs who were convicted of assisting Israel by giving it information that resulted in the deaths of two people.
This past May, a military court in the Gaza Strip sentenced several Palestinian Arabs who were convicted of providing information to Israel to be executed by hanging and by firing squad.
In theory all execution orders in PA territories must be approved by PA chairman Mahmoud Abbas, who is based in Ramallah and who imposed a moratorium on executions several years ago.
Hamas no longer recognizes Abbas' legitimacy, and has in the past emphatically declared that the death penalty in Gaza can be carried out without his consent.