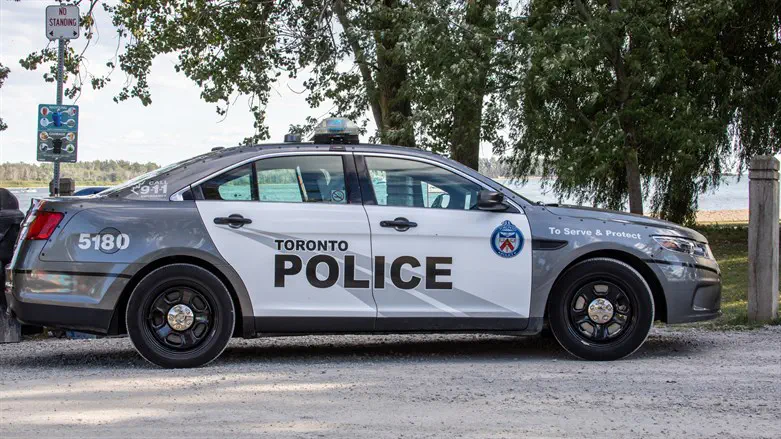 Toronto police
iStock
The Toronto Police Service (TPS) has published their 2022 hate crimes report revealing that hate crimes targeting Jewish, Black, and LGBTQ2S+ populations remained the most commonly reported to police, representing 26, 19, and 16 percent of all hate crimes, respectively.
Presented to the TPS Board on Thursday, the document counts 242 reported hate crimes in 2022, which reflects a six percent decrease compared to 2021, a level still well above the ten-year average of 173.
The Centre for Israel and Jewish Affairs (CIJA) issued a release in which it outlined the key figures in the report which pertain to the Jewish community. These include:
Toronto's Jewish community was targeted in 63 reported hate crime incidents in 2022.
Although comprising only 3.4 percent of the population of Toronto, the Jewish community was victimized in approximately 26 percent of all hate crimes.
Hate crimes overall are down year-over-year by six percent, but hate crime targeting the Jewish community increased 14 percent between 2021 and 2022.
Anti-Jewish hate crime has increased 50 percent over the last three years.
The three most frequently reported criminal offences motivated by hate in 2022 were mischief to property, assault, and uttering threats.
The Jewish and Black communities were the most frequently victimized in occurrences of hate-motivated mischief to property.
In response to the report, Noah Shack, Vice President, GTA at the Centre for Israel and Jewish Affairs (CIJA), said, "We are concerned to see how severely hate crime is impacting Toronto's Jewish, Black, and LGBTQ2S+ communities. Hate doesn't just affect its targeted victims; it is corrosive to our entire society. A single hate crime targeting any group in our city is too many."
"Antisemitism is on the rise in Canada and around the world. The Jewish community is only 3.4 percent of Toronto's population but was disproportionately targeted by 26 percent of reported hate crimes. It's alarming that, while hate crimes in Toronto declined overall, incidents of Jew-hatred increased by 14 percent," added Shack.
"The Toronto Police Service, under the leadership of Chief Myron Demkiw, has taken significant steps to address hate in our city, important work that must continue with support from all levels of government. It is imperative for all Torontonians to stand together against hate in all its forms, including antisemitism. Our leaders must speak out and act against hate to ensure safety and accountability and foster a welcoming and inclusive society for all."
Recent hate crimes targeting Toronto's Jewish population include instances of antisemitic graffiti; cars being defaced with swastikas; and a series of antisemitic assaults committed by a man who drew a swastika on his chest and yelled "Heil Hitler."
In September, Toronto launched a campaign focused on fighting antisemitism.
In February, the Toronto Police Service presented a plan to fight antisemitic hate crimes.