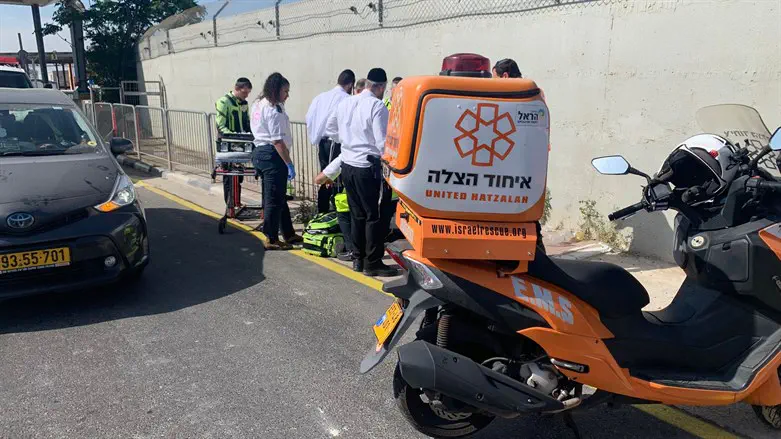 The scene of the incident at the Hashmonaim Crossing
United Hatzalah
This morning (Monday), just before 9:00 am, a Palestinian Arab man was brought to the Hashmonaim Crossing by relatives after suffering a cardiac arrest. Security guards at the checkpoint immediately alerted emergency forces and initiated CPR on the 63-year-old.
United Hatzalah volunteer EMT Moshe Margolis was driving to work, not far from the checkpoint, when he received the alert on his communications device. Moshe arrived at the scene in under a minute to find the patient lying on the ground while security guards performed chest compressions. A defibrillator had been attached to the patient. The volunteer assessed the overall situation and reported back to United Hatzalah's Dispatch and Command Center to ensure that more first responders were on their way. Moshe then took out medical equipment from his kit and began providing bag-valve-mask ventilation, before taking over performing chest compressions as more first responders began flocking to the scene.
United Hatzalah volunteer EMT Arye Hershler was in the middle of morning prayer when he received the urgent notification. Arye swiftly made his way to the scene on his ambucycle, joined shortly after by fellow volunteer EMT Haim Socolovsky. Upon their arrival they joined the EMTs at the scene, working in unison to administer the life-saving treatment.
Several minutes later, an intensive care ambulance arrived, reinforcing the medical team at the checkpoint. The paramedic assumed control, providing advanced life support, including medication and advanced airway management. Following a joint effort of close to 30 minutes, the medical personnel breathed a sigh of relief when the man's pulse was finally restored. The ambulance team then transferred the patient to the ambulance and transported him to the hospital for further care.
Reflecting on the incident, Arye Hershler highlighted the driving force behind his two-decade-long dedication as an EMT. "My upbringing instilled in me the value of lending a helping hand to those in need, no matter who they are," Arye shared. "The fulfillment derived from saving a life fuels my sense of purpose, despite occasional sacrifices made by my family. They understand the significance of this commitment."
"I am glad that I was at the right place at the right time, and that I received the information in a timely manner," added Moshe. "The security guards also behaved remarkably and responded to the emergency by doing all of the right things. These are the things that make a difference in cases such as this one."