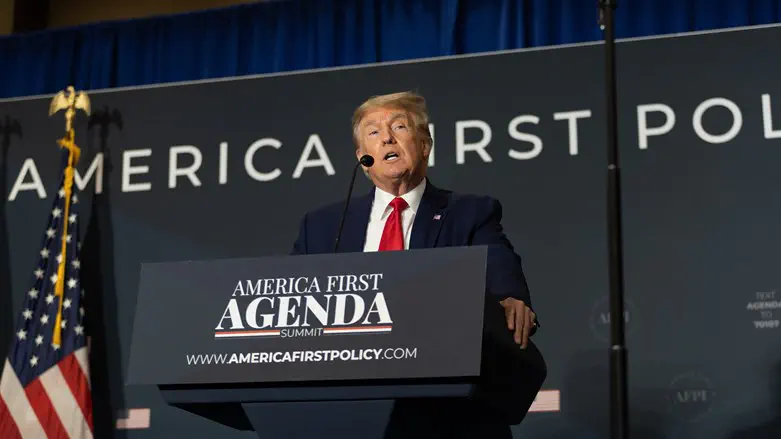 Donald Trump
Reuters
Former US President Donald Trump on Wednesday said he would pardon many of those convicted for their involvement in the January 6, 2021 attack on the US Capitol.
Trump made the comments during a CNN town hall hosted by the network's Kaitlan Collins.
Collins asked Trump whether he would acknowledge that he lost the 2020 election to Joe Biden. Trump in response insisted again that the election was rigged against him.
"It was a horrible election," Trump said, adding, "They found millions of votes on camera, on government cameras, where they were stuffing ballot boxes. So with all of that, I think it's a shame what happened. I think it's a very sad thing for our country. I think it's a very sad thing, frankly, for the world, because if you look at what's gotten to our country, our country has gone to hell."
Trump declined to express regret for the deadly attack on the US Capitol, and repeated his plan to pardon individuals involved if voters return him to the White House in 2024.
"I am inclined to pardon many of them. I can't say for every single one because a couple of them probably they got out of control," Trump said.
Collins asked Trump if he felt he owed former Vice President Mike Pence an apology for the events of January 6. Pence has accused Trump of endangering his life on January 6.
"No, because he did something wrong. He should've put the votes back to the state legislatures and I think we would've had a different outcome," Trump replied.
Trump previously said this past September he would issue full pardons and a government apology to rioters who stormed the US Capitol on January 6, 2021.
He made similar comments last January, saying at the time, "If I run, and if I win, we will treat those people from January 6th fairly. We will treat them fairly. And if it requires pardons, we will give them pardons because they are being treated so unfairly."
Senator Lindsey Graham (R-SC) later distanced himself from Trump's suggestion and said the comments are "inappropriate."
"No, I don't want to send any signal that it was OK to defile the Capitol," Graham said.
"There are other groups with causes that may want to go down to the violent path that these people get pardoned," he added. "I think it's inappropriate. ... I don't want to do anything that would make this more likely in the future."
In Wednesday's town hall, Trump was asked about the verdict this week in which a Manhattan federal jury found that he was liable for sexually abusing E. Jean Carroll.
The former President said he did not think the verdict disqualifies him from being president or will have an impact on women voters.
He denied knowing the columnist and denied the accusations.
"This woman, I don't know her. I never met her. I have no idea who she is," Trump said. When asked if the jury's decision would deter women from voting for him, he replied, "No, I don't think so."
Finally, Trump said he would accept the 2024 presidential results if he were the Republican nominee if he believes "it's an honest election."
"If I think it's an honest election I would be honored to," Trump said.
Pressed by Collins if he would accept the results regardless of the outcome, Trump reiterated, "If it's an honest election I will."