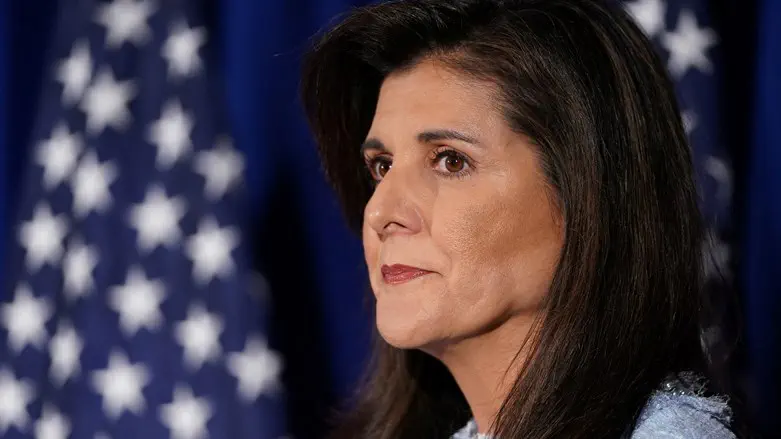 Nikki Haley
Reuters
Former US Ambassador to the UN Nikki Haley, who is seeking the Republican presidential nomination in 2024, on Wednesday expressed support for Israel as it came under attack from hundreds of rockets that were fired from the Gaza Strip.
"Israel is defending itself the same way America would defend ourselves if someone was shooting missiles at us," tweeted Haley.
"We will always have the backs of our friends," she stressed.
Haley is known for being a staunch supporter of Israel, and has regularly stressed that the Jewish state has a right to defend itself from terrorism.
Several months ago, Haley addressed a special audience of Jewish leaders and community members in Montreal, Canada, in which she stressed the importance of the role of the United States in the Middle East, and the impact that had on stability in the region.
She noted, "The only way peace happens in the Middle East is if the US stands strongly and steadfastly with Israel", and said that, "A strong America prevents war. At the end of the day, it's about leadership, and America has to demonstrate that leadership, including absolute support for its allies like Israel."
On Tuesday, US Senator Ted Cruz (R-TX), member of the Senate Foreign Relations Committee, issued a statement voicing support for Israeli strikes in Gaza, in which top Islamic Jihad terrorists were eliminated, marking the start of Operation Shield and Arrow.
"Israel has taken necessary action against terrorist leaders in the Gaza Strip to protect its citizens and maintain national security. Such Iran-controlled terrorists pose a direct threat not only to Israel but also to the safety and security of the American people," said Cruz.
"The government of Israel has the responsibility and obligation to defend its citizens, and I stand with our ally as it confronts those who seek chaos and destruction. The United States must continue to support Israel's right to defend itself, and ensure it has the military resources and diplomatic support it needs," he added.
Also on Tuesday, the White House said it was closely following Israeli air strikes in the Gaza Strip. A spokesperson for the White House National Security Council said Washington is also aware of reports that 10 civilians were "tragically killed" in the strikes.
"We call for all parties to deescalate the situation," said the spokesperson, according to the Reuters news agency.
"Israel has the right to protect itself and defend its people from indiscriminate rocket attacks launched by terrorist groups," added the spokesperson.