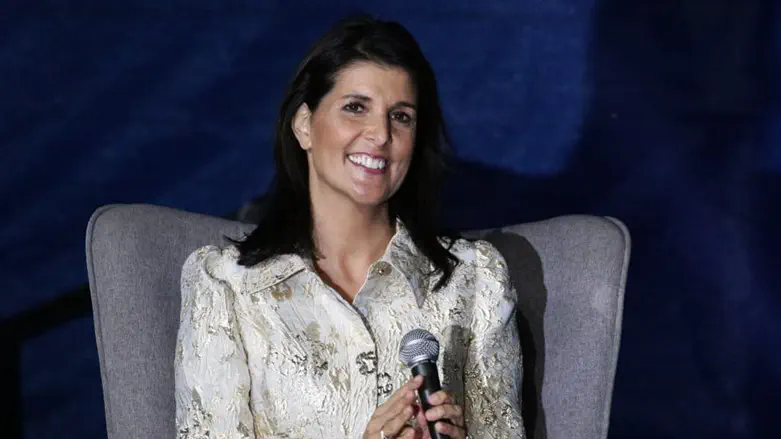 Nikki Haley
Esti Dezibov/TPS
Former US Ambassador to the UN Nikki Haley on Sunday expressed support for Israel.
"Israel has a right to self-defense," she tweeted.
In a post on Instagram, Haley shared her tweet and added, "There is no equivalence between Palestinian terrorists targeting innocent civilians and Israel going after terrorists."
The comments followed a weekend of terrorism in Israel, with seven people being murdered in Friday's attack in the Neve Yaakov neighborhood of Jerusalem.
This attack was followed by another attack near the City of David archaeological site in Jerusalem, in which a father and son were injured.
Haley last month addressed a special audience of Jewish leaders and community members in Montreal, Canada, in which she stressed the importance of the role of the United States in the Middle East, and the impact that had on stability in the region.
She noted, "The only way peace happens in the Middle East is if the US stands strongly and steadfastly with Israel", and said that, "A strong America prevents war. At the end of the day, it's about leadership, and America has to demonstrate that leadership, including absolute support for its allies like Israel."
In November, Haley hinted at her intention to seek the Republican nomination for the 2024 US presidential race during her address to the Republican Jewish Coalition (RJC) political conference.
Ambassador Haley said that if the Biden administration succeeds in reviving the 2015 Iran nuclear deal, "the next president will shred it on her first day in office."
"A lot people have asked if I'm going to run for president now that the midterms are over. I'll look at it in a serious way and I'll have more to say soon," she said.
Haley touted her pro-Israel record at the UN, saying that she "was proud to stand up to the bullies and the haters of Israel at the UN. It was the right thing to do."