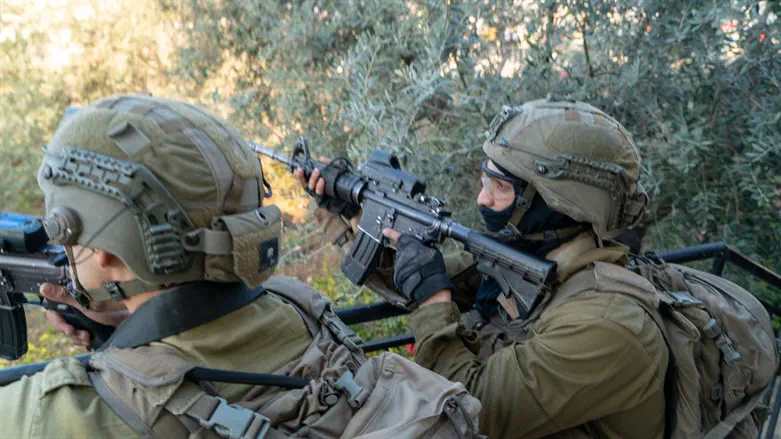 IDF forces in Jenin
IDF Spokesperson
Three wanted Islamic Jihad terrorists who were planning to carry out a terrorist attack were arrested in Jenin this afternoon (Tuesday).
IDF forces from the Duvdevan Unit working conjunction with the Israel Security Agency (Shin Bet) and the Border Police carried out the operation to apprehend the terrorists.
During the operation, Israeli forces came under fire from terrorists. Six Arabs were injured in the ensuing firefight, according to the Palestinian Authority Health Ministry. No Israeli security personnel were injured during the operation.
The three Islamic Jihad terrorists taken into custody have been identified as Aa Kareem Ala Adin Ibrahim Ahmad, Ahmad Muhammad Ahmad Jaradat, and Amjad Muhammad Ahmad Jaradat. Furthermore, the forces confiscated a vehicle belonging to one of the wanted suspects.
The terrorist operatives were recently involved in extensive terrorist activity. The terrorist operatives were engaged in shooting attacks, explosive devices and the promotion of additional terror attacks.
Earlier today, a terrorist opened fire on Jews in the Shimon Hatzaddik neighborhood of Jerusalem, near the entrance to the Tomb of Shimon Hatzaddik. Two Breslov Hasidim were moderately wounded in the attack.
Footage from the attack shows the terrorist running up to the victims' car and opening fire at them at point-blank range.
Security forces are continuing to search for the terrorist, whose weapon was found near the scene of the attack.