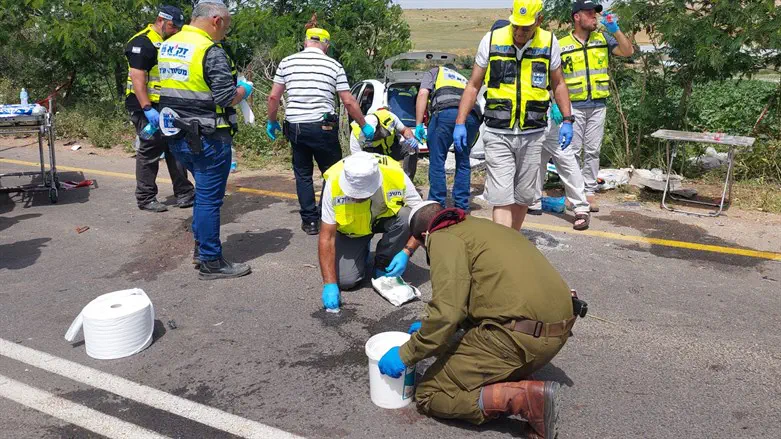 Scene of the attack
ZAKA
Abdel-Latif al-Kanou, a spokesman for the Hamas movement, calls the shooting attack in the Jordan Valley, in which two sisters were murdered and the mother was critically wounded, "an act of heroism."
In a statement he published (Friday), al-Kanou said that this "act of heroism" coincides with the launching of rockets from the Gaza Strip towards Israeli settlements and these moves illustrate the unity of the Palestinian people in dealing with the occupation and in defending the Al-Aqsa Mosque.
According to him, the attack is a defiant message about the "crimes of the occupation" at the al-Aqsa Mosque that were directed against the Muslim worshippers, since it is impossible for them to go without a response from the Palestinian struggle organizations.
The Islamic Jihad also published a message congratulating the attack in the Jordan Valley, which it called a "heroic act" carried out as "revenge for (the) Al-Aqsa Mosque and our mighty (Palestinian) people."
According to the Islamic Jihad, the operation was carried out as part of the policy aimed at carrying out attacks against the IDF checkpoints in Judea and Samaria, to hurt Israel in a way that it does not expect and to send a strong message according to which "the crimes of the occupation against our (Palestinian) people will not go without a response that is commensurate with the scope of the crime ".
In the Temple Mount square, Muslim worshipers hung a Hamas banner and chanted in support of the murder of women in the Jordan Valley.