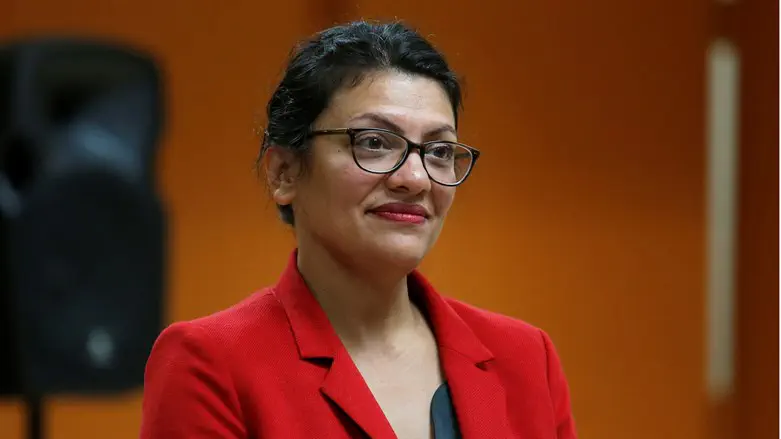 Rashida Tlaib
Reuters
Progressive Rep. Rashida Tlaib (D-MI), a member of the far-left Squad, faced a barrage of criticism on Twitter after falsely claiming in a tweet that a fight between Palestinian Arab youth in Jerusalem was really the "violent apartheid government of Israel" using the IDF to target Arabs.
After being corrected by dozens of Twitter users, the anti-Israel Congress member partially deleted the tweet, with Twitter adding a message stating: "Readers added context they thought people might want to know. The context of this video is that the Israeli police were separating a fight among Palestinian teenagers at the Damascus Gate in Jerusalem."
Tlaib posted the tweet on Sunday after the pro-Palestinian NGO Institute for Middle East Understanding (IMEU) published a video showing a fight happening at the Damascus Gate during Ramadan observances, Fox News reported.
Tlaib replied to IMEU's tweet by charging that Israel was guilty of "apartheid" and alleging that Israeli soldiers were targeting "Palestinians celebrating the first day of the holy month of Ramadan in occupied Jerusalem."
While the video has been since deleted from Tlaib's tweet, her statement that "This is the violent apartheid government of Israel. Don't look away" is still there.
Twitter also provided a fact-check to IMEU's original post with the video, linking to a Jerusalem Post story and a tweet about the fight between Palestinian Arab teenagers.
Dozens of Twitter users, including Jewish organizations and journalists, responded to Tlaib's baseless claim by pointing out that she was not telling the truth.
StopAntisemitism tweeted: "Twitter calling out Rashida Tlaib's lies is a perfect start to the week."
Yochonon Don, the editor of Haredi weekly Mispacha Magazine, noted that a "US congress member just lied on Twitter" and urged, "Don't normalize this."
Political commentator Fred Menachem slammed Tlaib for "manipulating the truth" and called her dangerous.
"The fact that she takes a video and then twists & manipulates the truth about what happened gives her no credibility when she has something legitimate to say. Her hate has no bounds and it has poisoned her from reality. Her statements incite violence, she's dangerous," Menachem tweeted.