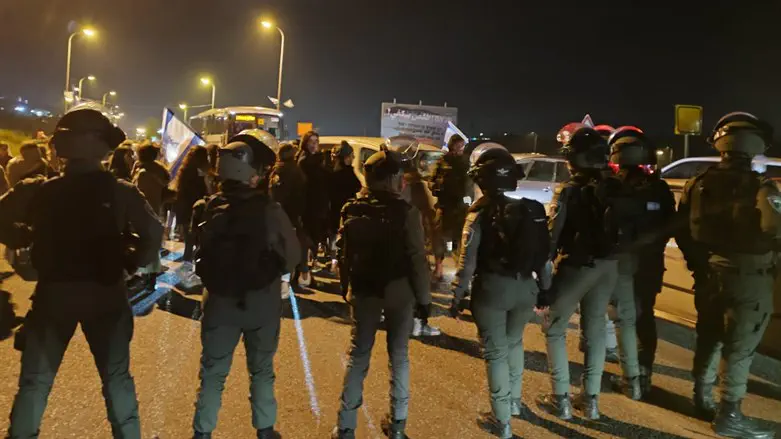 demonstration in Huwara
no credit
The condition of the two IDF soldiers who were wounded in a terrorist shooting attack in Huwara has improved, Beilinson Hospital reported this morning (Sunday).
According to the hospital's statement, the two are conscious and in moderate condition, and there is no danger to their lives. They are hospitalized in the intensive care unit of the hospital's heart surgery unit.
One of the soldiers was seriously wounded in the shooting, while the other was moderately wounded.
The terrorists opened fire from a passing vehicle and fled the scene. Security forces are hunting for the attackers.
The injured were identified as two soldiers from the Sderot Hesder yeshiva, Elon Ben Na'ama and Uri Ben Zohar.
Sderot Mayor Alon Davidi said, "I send my best wishes for recovery and pray for the healing of the students of the Hesder Yeshiva in Sderot, the dear soldiers of the Kfir Brigade, who were injured on Shabbat in the shooting attack in Huwara. I call on the public to pray for their complete and speedy recovery."
Samaria Regional Council chairman Yossi Dagan said: "It feels like lawlessness, three shooting attacks at the same range of a few meters, on the main road of Huwara. The writing is not on the wall, it is bleeding from the wall. I demand that the Prime Minister, the Defense Minister and all the ministers of the government inform us tonight that they are returning the security checkpoints in the Shechem and Huwara area, closing of the shops in Huwara to prevent the traffic jams - which could have prevented the previous two attacks - and are launching a military operation against the terrorist Palestinian Authority to collect the illegal weapons and restore deterrence."
"We won't give the government a pass just because we voted for it. This government continues the policy of the previous government, and this is shown in the spilled blood. I demand that the Prime Minister, the Defense Minister, and all the government ministers come to their senses. We cannot neglect Israel's security, not in Samaria, not in Tel Aviv, not anywhere in the State of Israel."