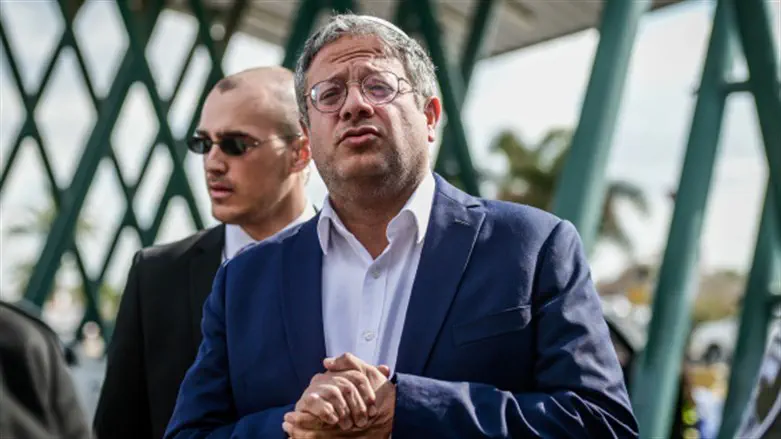 Itamar Ben-Gvir
Avshalom Sassoni/Flash90
Supreme Court Justice Yitzhak Amit ruled Sunday that National Security Minister Itamar Ben-Gvir is prohibited from giving operational instructions to the police during anti-judicial reform demonstrations.
Justice Amit rejected the petition of the Association for Civil Rights in Israel for an interim order preventing Ben-Gvir from interfering in the functioning of the police. However, he commented that "the minister is not allowed to give operational instructions regarding the manner of implementing his policy, the manner of the use force, the means of dispersing demonstrations, and the conditions regarding the time, place and manner of organizing the event."
"The minister must refrain from giving operative instructions to the police, either directly or indirectly, and this is especially true regarding protests and demonstrations against the government," added Amit.
The Movement for Quality Government in Israel responded: "Ben-Gvir behaves like an anarchist, and he should not have the right to enter the 'holy of holies' of the work of the Israel Police. Every day that passes, we are exposed more and more to the chaos that Ben-Gvir creates within the police. His stated goal is not to protect the citizens of Israel, but to incite chaos and anarchy in the streets. The court did well to understand this, and decided to prevent Ben-Gvir from continuing to destroy the fabric of life in Israel and to stir up chaos and chaos."
The Association for Civil Rights in Israel, which filed the petition, stated that "the court clearly clarified to Minister Ben-Gvir the limits of his position - he has no authority to interfere in the conduct of the police during demonstrations. We will not hesitate to return to court if it appears that he continues to act as the police commissioner, with the aim of eliminating the demonstrations."