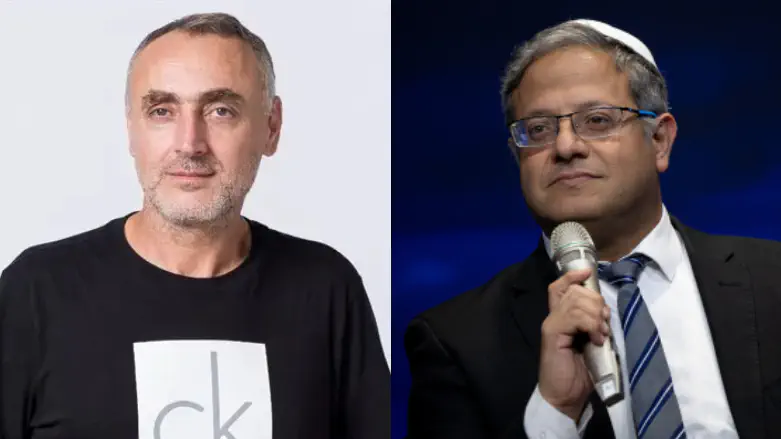 Ben Gvir and Asayag
Yonatan Zindel Flash 90, PR the 80s
Screenwriter Meni Asayag appealed to Minister of National Security Itamar Ben Gvir (Otzma Yehudit) requesting him not to hold evening prayers on Thursday in Dizengoff Square, in response to the clashes during the Rosh Yehudi prayers on Yom Kippur.
"I wish you much peace, Minister Ben Gvir, my dear brother," wrote Asayag. "You didn't answer my phone call, so I'm writing to you here: When you announced that you were organizing the prayers on Thursday in Tel Aviv, I decided that I would join and also bring more Jews."
"Since then 24 hours have passed and I have had time to think about the matter. It seems to me a bit unnecessary. It's not that the prayer is unnecessary, God forbid, but this potential of flaring up the clashes with the hooligan rioters, who will surely come to endorse what they live by: chaos and anarchy."
He also wrote: "They will definitely use their media to display you and only you as responsible for any violent incident that may develop. By doing so, they will cause us to forget the pogrom that the hooligans perpetrated against Jewish worshipers on the eve of Yom Kippur, and will divert all fire towards you and the worshipers who will come. We do not intend to ever forget that terrible evening. Never! We don't have the right to forget such traumatic events."
"Therefore, I ask you as a friend and as a brother to drop the matter. You are welcome to come to evening prayers at the Ashkenazi Synagogue in Motzkin, with dear Rabbi Eisenbach. Thank you very much and Gmar Chatima Tova, dear Jew."