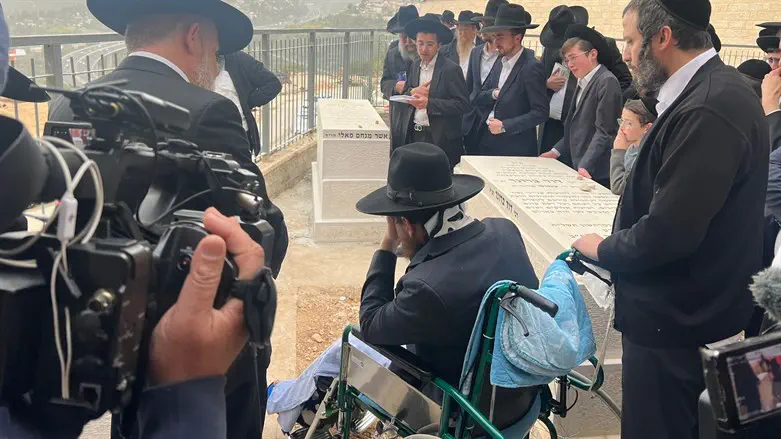 אברהם פלאי, שנפצע בפיגוע, Avraham Paley visits his sons grave
Sion Alkalk/Channel 13 News
Avraham Paley, the father of Yaakov Yisrael Paley, 5, and Asher Menahem Paley, 7, the children who were killed in a ramming attack in the Ramot neighborhood of Jerusalem last month, left the hospital for the first time since the attack Monday and visited the grave of his sons.
Paley, 42, who was seriously injured in the attack, was sedated for two weeks and only learned of the death of his children nearly three weeks after the attack after regaining consciousness.
He went straight to the Har Hamenuhot cemetery immediately upon leaving Hadassah Ein Kerem Hospital Monday afternoon, and arrived in a wheelchair via ambulance.
Paley was informed of the tragic loss of his two sons by his wife, Devora, his mother, and his brother, with the aid of staff at Hadassah Ein Kerem Hospital. He underwent multiple surgeries in the weeks since the attack.
After learning of the fate of his sons, Paley said that "G-d did this due to my sins," and also performed the traditional Jewish mourning practice of tearing his clothing.
Upon leaving the hospital, Paley thanked the medical staff who saved his life. "I thank all those staff who took care of me with devotion from the moment I arrived at Hadassah, both in the intensive care unit and the surgical department. I thank everyone for accompanying me during these difficult moments," he said.