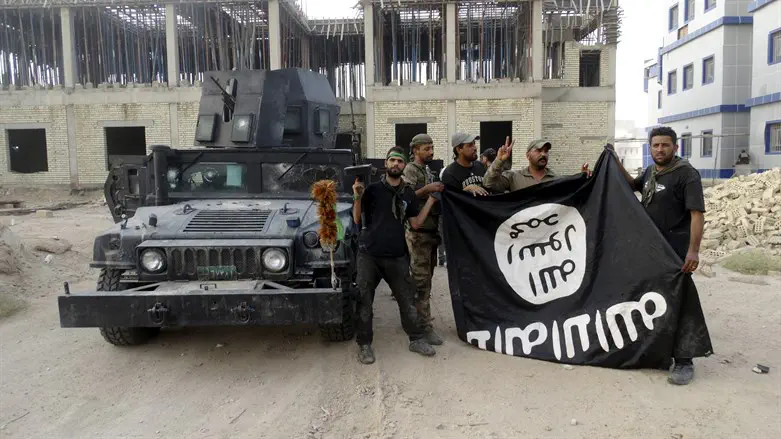 ISIS terrorists
Reuters
A total of 22 Islamic State (ISIS) militants, including some of the group's leaders, were killed in an operation in Iraq's western province of Anbar, the Iraqi military said on Sunday, according to the Xinhua news agency.
Lieutenant General Abdul Wahab al-Saadi, head of the Iraqi Counter-Terrorism Service, said at a press conference that the operation was carried out in two phases by an airborne force on a rugged area north of the town of Rutba, some 400 km west of the Iraqi capital of Baghdad.
All the killed jihadists were wearing explosive belts, and senior leaders were among the dead, said al-Saadi without revealing the exact date for the beginning of the operation, confirming that the operation is still underway.
ISIS overran large swathes of Syria and neighboring Iraq in 2014, proclaiming a "caliphate" in land it controlled.
Several military offensives, including those backed by the US-led international coalition, have since seen ISIS lose most areas it once controlled, including the loss of their de facto capital in Raqqa, Syria.
However, ISIS sleeper calls remain in the area continue to carry out deadly attacks in Syria and Iraq.
US raids in the area regularly target ISIS members and leaders. Last month, an ISIS group leader was killed in a US helicopter raid on northeast Syria.
In January, American forces captured two ISIS members during an air and ground assault in eastern Syria.
A month earlier, American forces killed two ISIS terrorists in eastern Syria in a helicopter raid. One of the two targeted ISIS leaders, Anas, was described as an "ISIS Syria Province official" involved in plotting attacks in eastern Syria.