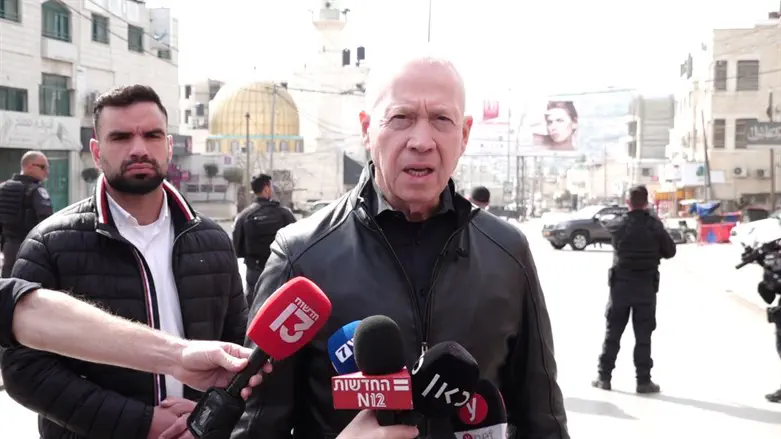 Yoav Gallant in Huwara
Hillel Meir
Defense Minister Yoav Gallant warned National Security Minister Itamar Ben-Gvir that he would cease talking to him if the content of their private conversations conti9nued to be leaked to the media, as has happened three times already, Kan Reshet Bet reported.
According to the report, Ben Gvir tried to call Minister Gallant on Friday to receive a clarification regarding the administrative detention order Gallant issued against two suspects in last week's riot in Huwara, which was given minutes after the Jerusalem Magistrate's Court ordered the suspects released for lack of evidence. Gallant refused to respond, prompting Ben-Gvir to turn to Prime Minister Benjamin Netanyahu.
The two suspects who remain detained are a 17-year-old minor and a man in his late 20s. The court ordered them and six other suspects released. Their detention led to demonstrations by right-wing activists in front of the homes of Ben-Gvir and Finance Minister Bezalel Smotrich.
According to security sources, the administrative arrest warrants were legally approved by a judge because the two suspects are believed to have been planning more violence following the riot in Huwara.
The sources claimed that irresponsible politicians are inflaming tensions in the area for political reasons and causing international damage to Israel's reputation for personal gain. "We must calm the area to allow the State of Israel to act before the world on the issue of the Iranian threat - which worries and preoccupies the heads of the security establishment," they said.
Last Sunday, a group of Jews rioted in the Samaria Arab village of Huwara, burning cars and buildings, hours after two Jewish brothers were murdered in a terrorist shooting attack in the village.