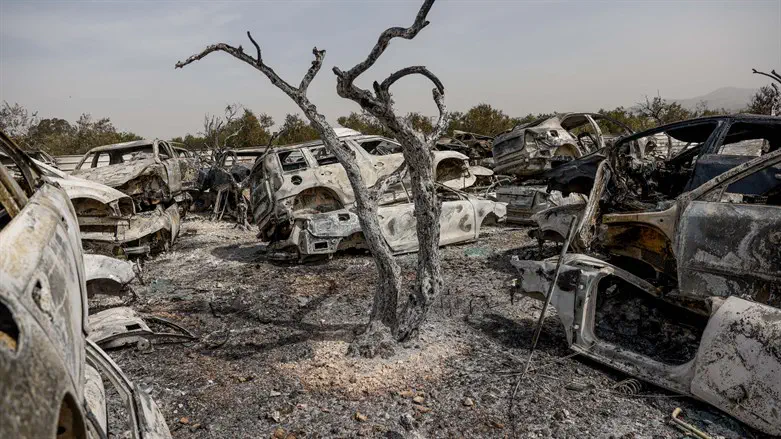 Results of riot in Huwara
Erik Marmor/Flash90
Defense Minister Yoav Gallant this evening (Thursday) signed an administrative detention order against two right-wing activists, suspects in Sunday's riot in Huwara, one of them a minor, for four months.
The defense minister signed the order minutes after the Jerusalem Magistrate's Court ordered them and six other suspects released for lack of evidence.
The two are suspected of involvement in the violent riot which was committed in the Arab village of Huwara in Samaria hours after the terrorist attack in which two Jewish brothers were murdered in the village.
Attorney Adi Keidar from the Honenu organization said in response: "While the residents of Huwara are cheering for the murderers, the Minister of Defense strengthens their hand, and gives a reward to terrorism in the form of administrative orders against the Jews while the murderers are still roaming free."
"While in the Arab media the incitement is being celebrated, and in the field there is a complete loss of control by the IDF over stone-throwing, shooting and Molotov cocktail attacks against Jews, the Minister of Defense sees himself as a higher court - above two judicial courts that ordered the release of the settlers, and as the Shin Bet's rubber stamp against Jews. The Shin Bet continues its war of attrition against the settlers while ignoring the serious incitements from the left that lead to widespread anarchy and disorder throughout the country," Keidar said.
MK Limor Son Har-Malech strongly criticized Minister Gallant. "This is a shameful decision that indicates that the Defense Minister has lost his way and can't differentiate between brothers and enemies. The imposition of a closure on the village of Huwara or the arrest of the main instigators in the Palestinian Authority did not seem to Gallant to be a necessary step four days after a murderous attack in which we lost two of our best sons, instead, he chose a draconian arrest of activists in a settlement that suffers from daily terrorism."
"The people elected us to implement right-wing policies and deal with terrorism with a strong hand. This act is the exact opposite of that. Minister Gallant, I call on you to come to your senses today and announce the cancellation of the orders immediately," she said.
Administrative detention is a measure which is usually used against terrorist suspects in which suspects can be held without being or access to the evidence against them. Its use against Israeli suspects has been controversial.