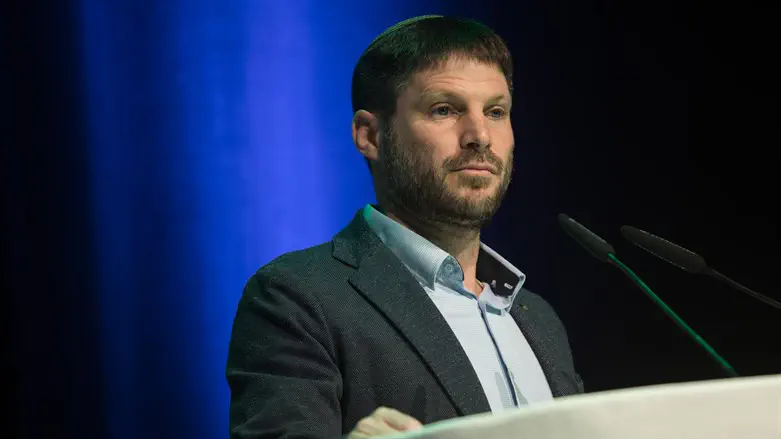 Bezalel Smotrich
Flash 90
The United Arab Emirates (UAE) on Thursday condemned Minister of Finance Bezalel Smotrich's call for the Arab village of Huwara to be "wiped out".
In a statement quoted by Gulf News, the UAE Ministry of Foreign Affairs and International Cooperation affirmed the UAE's rejection "of all practices and behaviors that contradict moral and human values and principles."
"The Ministry underscored the need to confront hate speech and violence and noted the importance of strengthening the values of tolerance and human coexistence in efforts to reduce escalation and instability in the region," it said.
Moreover, the Ministry "stressed the need to support all regional and international efforts to advance the Middle East Peace Process, end illegal practices that threaten the two-state solution, and establish an independent Palestinian state on the 1967 borders with East Jerusalem as its capital."
Smotrich's comments came during a financial conference hosted by The Marker business daily. He was asked why he had liked "liked" a tweet by Samaria Regional Council deputy mayor Davidi Ben Zion calling "to wipe out the village of Huwara today."
Smotrich replied, "Because I think the village of Huwara needs to be wiped out. I think the State of Israel should do it."
"God forbid, the job shouldn't be done by private citizens," he added, condemning the riots by Jews in Huwara. "We shouldn't be dragged into anarchy in which civilians take the law into their own hands."
He later published a clarification in which he said, "Once again the media is taking a quote of mine and trying to create a distorted interpretation of it. If they had played my entire remarks, you would have heard that I was talking about how Huwara is a hostile village that has become a terrorist outpost from which terrorist operations are launched every day, of rock throwing and shooting against Jews, but it is forbidden in any way to take the law into one's own hands."
"I said that I support a disproportionate response by the IDF and the security forces to every act of terrorism. For every rock - the closing of shops at the scene, for every firebomb - the arrests and deportation of the families of the terrorists, for every nest of terror - a closure and the collection of a painful price until the terrorists and their supporters realize that the blood of our children is not cheap and that terrorism is not profitable. This is the way to deal with terrorism and, God forbid, to prevent the next victims," said Smotrich.
Despite the clarification, US State Department spokesperson Ned Price called Smotrich's comments "irresponsible, repugnant. and disgusting."
"Just as we condemn Palestinian incitement to violence, we condemn these provocative remarks that also amounts to incitement to violence," Price said, adding, "We call on Prime Minister Netanyahu and other senior Israeli officials to publicly and clearly reject and disavow these comments."
On Thursday, Stephane Dujarric, spokesman for UN Secretary General Antonio Guterres, called Smotrich's comments "irresponsible" and "unacceptable."
"From our point of view, the statement that was made by Minister Smotrich is provocative, it's inflammatory and statements like these are just unacceptable," Dujarric said. "Coming from a government official, it's irresponsible."