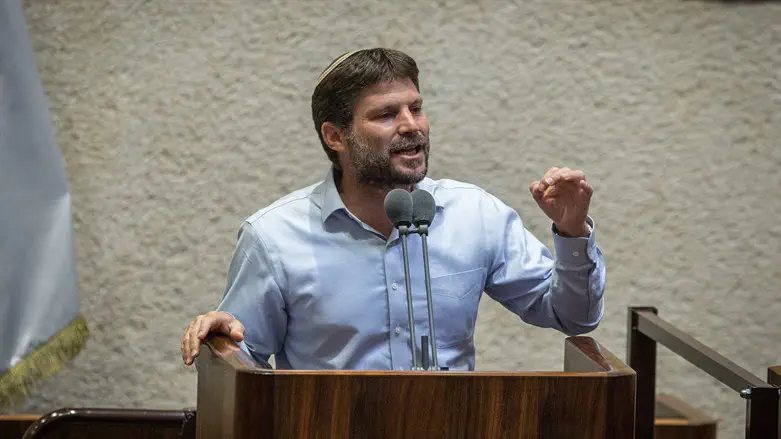 MK Smotrich
Flash 90
The United Nations today (Thursday) condemned the statement of Israeli Finance Minister Bezalel Smotrich that he would like to see the Arab village of Huwara, where two Jewish brothers were murdered on Sunday, "wiped out."
Stephane Dujarric, spokesman for UN Secretary General Antonio Guterres, called Smotrich's comments "irresponsible" and "unacceptable."
"From our point of view, the statement that was made by Minister Smotrich is provocative, it's inflammatory and statements like these are just unacceptable," Dujarric said. "Coming from a government official, it's irresponsible."
He added that Secretary General Guterres calls on all sides "to refrain from incitement, inflammatory rhetoric and all acts of provocation."
The controversy began when Smotrich "liked" a tweet by Samaria Regional Council deputy mayor Davidi Ben Zion calling "to wipe out the village of Huwara today."
When asked about why he had liked the tweet during a financial conference hosted by The Marker business daily, Smotrich replied: "Because I think the village of Huwara needs to be wiped out. I think the State of Israel should do it."
The US State Department condemned Smotrich's remarks on Wednesday, with State Department spokesperson Ned Price calling the comments "irresponsible, repugnant. and disgusting."
"Just as we condemn Palestinian incitement to violence, we condemn these provocative remarks that also amounts to incitement to violence," Price said.
Following the condemnation by the US government, Smotrich issued a clarification that he did not mean that the entire village of Huwara should be wiped out, but that the Israeli government should "exact a heavy priсe from them to restore security to the residents of the area."