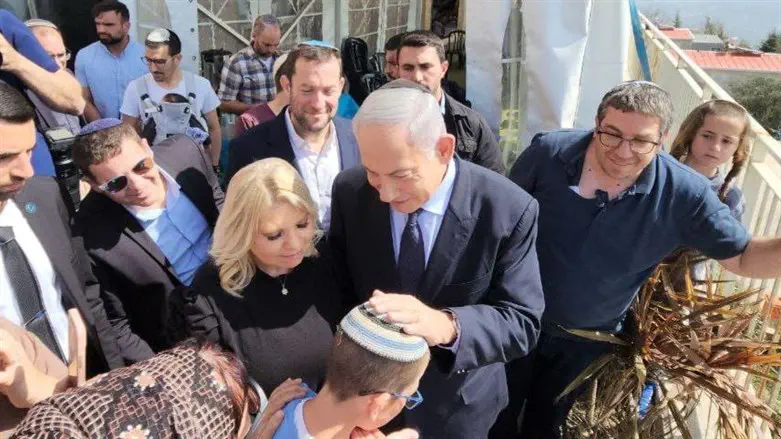 Benjamin Netanyahu blesses the victims' younger brother Tzur
Roy Hadee
Prime Minister Benjamin Netanyahu on Thursday visited the Yaniv family whose two lost sons, Hillel and Yagel, were murdered in a shooting attack in Huwara at the beginning of the week.
The Prime Minister heard about Hillel and Yagel, who were murdered on their way to their Yeshivas in Kiryat Shomona and Hadera, from their family.
Netanyahu spoke with the bereaved family and parents, Esther and Rabbi Shalom, and heard about Hillel and Yagel's love for the man and the land of Israel. The victim's sister, Rachel, told the Prime Minister about their last trip together.
The Prime Minister told Esther: "You talk from the bottom of your heart; the land of Israel is obtained through suffering; there is no bigger suffering than this." Netanyahu added: "This heinous murder, if they only could, they would murder us all, until the last one, they want to uproot us from our homeland, we must deepen our roots, our settlement in the land, and in the end, we will win this battle. We will win.
Look what was here 50 years ago and what we have now. You were uprooted from Gush Katif (Gaza strip), that won't repeat itself, the other way around, we will build," concluded Netanyahu.
The victims' father asked the Prime Minister to continue his work for Samaria: "We need your consolation and support in Har Bracha, in Samaria. We need you if there's anything that will console us; its that our sons didn't fall for no reason, it's to see that the land of Israel is being built, that with G-d's help, we will get out of this crisis, and we will dance at our children's joyous events. When you put out your book, Hillel immediately went to buy it; he loved you. I'm happy that at least they're watching out for each other up there."
The boys' mother, Esti, told Netanyahu: "They were very special children, G-d took them, they're special, both in the military, in kindness, in the Torah, that is the strength of this community, it is so special, this is where they were raised. I know that I don't know what's waiting for me."
The boys' sister, Rachel, asked the Prime Minister to work on security matters: "I will live here, and we will continue to live here, no matter what, this is my land, my country, my grandparents fought here, and we will continue to travel here, we just want to travel safely. They threw rocks at me three times in one month. It can't continue this way, why are there so many families that are victims of terror, something must be done here, there is an amazing population here, which travels here every day, they pass through Huwara, and we will continue to pass through since this is my road, this is my land. But we need deterrence, I am screaming from the bottom of my heart, we can't let this reality continue. We can't accept it, it is unfathomable, this is the blood of all of Israel's brothers."
Samaria Regional Council Head Yossi Dagan thanked the Prime Minister for the visit and stated: "The entire settlement movement in Judea and Samaria found strength in two things during this difficult week, from this amazing family, which only cares about spreading light and good doing. The second thing, it's important for me to say this here to you and your wife, you are doing the right thing regarding settlements, and it is important to all of the residents of Samaria, including this dear family, together we will collect the fragments, and together we will strengthen Har Bracha, and we will establish a big urban center here, and Samaria will reach one million residents. I thank you for coming here, and we will cause the people of Israel to win at construction, like you said, together with you in construction and security."