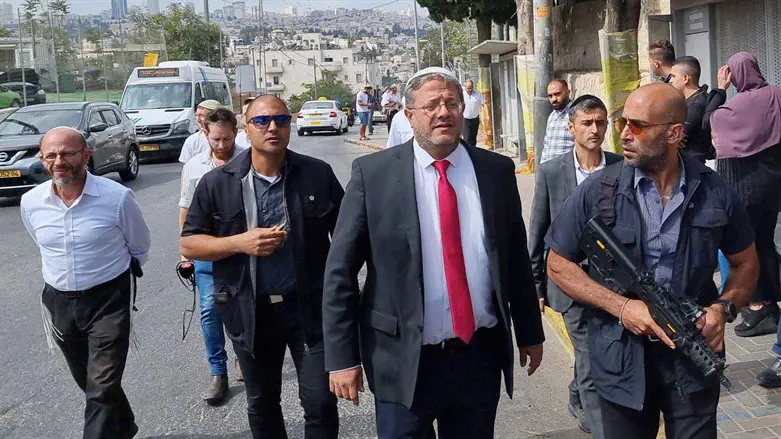 Itamar Ben-Gvir
INN
The law enforcement and counter-terrorism operation in Arab neighborhoods of Jerusalem ordered by National Security Minister Itamar Ben-Gvir continued this week.
Between Sunday and Tuesday, four illegal weapons and 11 toy pistols which had been modified to use live ammunition were seized. 72 suspects were arrested in 18 special enforcement operations in the city. Two illegal buildings were demolished. Illegal funds were seized on 39 occasions, and 113 traffic reports were given.
The police set up 232 checkpoints and 12,451 citizens and 8,349 vehicles were checked during this three-day period.
Minister Ben-Gvir said: "Our governance in the eastern part of the city should be clear to everyone. I thank the security forces and the police who operate in the area all the time. We need to significantly increase our activity and our war on terrorism, and I am working non-stop to see this carried out. To do this we must significantly increase the police budget and the police's operational abilities and add more police officers to restore our governance."
Ben-Gvir ordered the operation in eastern Jerusalem following a spate of terrorist attacks in Jerusalem in which 11 Israelis have been murdered.
On January 27, a terrorist opened fire on a group of Jewish worshipers leaving Shabbat services at a synagogue in the Neve Yaakov neighborhood of Jerusalem, killing seven people, including a 14-year-old boy.
An February 10, another terrorist murdered three people, including two brothers, ages six and eight, in a ramming attack at a bus stop.
On February 13, Border Police officer Staff Sgt. Asil Sawaed was murdered when he was stabbed by a 13-year-old terrorist who had brought a knife from his home and stabbed Sawaed in the head during a bus inspection at the Shuafat checkpoint.