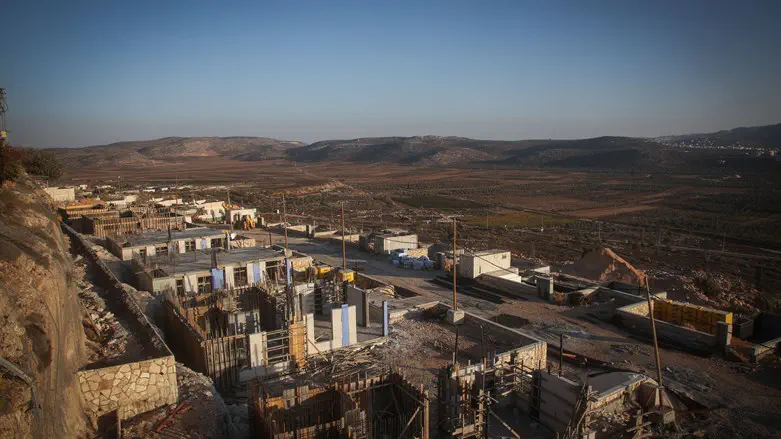 Construction in Judea and Samaria
Flash 90
Several countries in Latin America on Friday expressed concern over Israel's recent decisions to authorize nine communities in Judea and Samaria and build thousands of new housing units in that region.
In a joint statement, the governments of Argentina, Brazil, Chile and Mexico said, "These unilateral measures constitute serious violations of International Law and of Resolutions of the Security Council of the United Nations, especially no. 2334 (2016), in addition to contributing to raising current tensions."
"Our governments express their opposition to any action that challenges the viability of the two-State solution, in which Israel and Palestine can share secure and internationally recognized borders, while respecting the legitimate aspirations of both peoples to live in peace," added the four countries.
"The Governments of Argentina, Brazil, Chile and Mexico call upon Israelis and Palestinians to refrain from acts and provocations that could lead to a greater escalation of violence and to resume negotiations with a view to achieving a peaceful solution to the conflict," concluded the statement.
The statement comes three days before the UN Security Council is set to debate a resolution that will criticize Israel over its construction in Judea and Samaria.
The resolution, which is expected to be voted upon on Monday, would demand Israel "immediately and completely cease all settlement activities in the occupied Palestinian territory."
The text "reaffirms that the establishment by Israel of settlements in the Palestinian territory occupied since 1967, including East Jerusalem, has no legal validity and constitutes a flagrant violation under international law."
The State Department made clear on Thursday that the United States, which wields veto power at the Security Council, would not back the resolution, though it would not confirm whether it would veto the resolution.
"Our view is that the introduction of this resolution was unhelpful in supporting the conditions necessary to advance the negotiations of a two-state solution, just like we believe that the news out of Israel on Sunday was unhelpful," State Department deputy spokesman Vedant Patel said.
Patel stopped short of saying whether the United States would exercise its veto.
"I'm just not going to speculate or hypothesize on the process," Patel said.
The US has traditionally used its veto power in the Security Council when it has attempted to pass anti-Israel resolutions, though the Obama administration in 2016 did not veto a Security Council resolution against Israel's presence in Judea and Samaria.
On Wednesday, US officials told Axios' Barak Ravid that the Biden administration is discussing additional steps it can take in response to Israel's latest announcement on the authorization of the nine communities in Judea and Samaria and the construction of 9,000 new housing units in the region.
(Israel National News' North American desk is keeping you updated until the start of Shabbat in New York. The time posted automatically on all Israel National News articles, however, is Israeli time.)