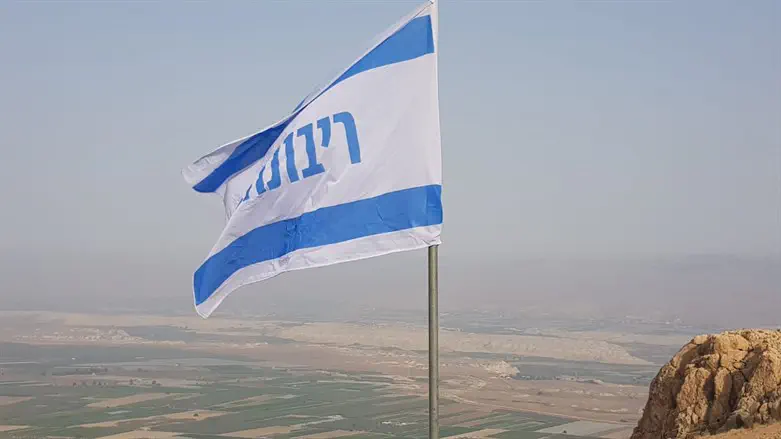 Soveriengty flag flies over Jordan Valley
Meir Elifur
The Sovereignty Movement and Israel Forever are holding an event today (Sunday), entitled "Sovereignty from Vision to Reality." The movements' leaders have said that the event rises to the next level in promoting the realization of the vision of sovereignty.
The event, which will take place in the Jordan Valley, seeks to promote the application of sovereignty in the Jordan Valley as a first step in realizing the vision of sovereignty, which the movement has been promoting for more than a decade. The event will be attended by settlement and security figures along with statesmen, politicians and spiritual leaders.
The day will open with a comprehensive tour led by Deputy Chief of Staff and former head of National Security Council, Maj. Gen. (res.) Uzi Dayan, who devotes his time to promoting sovereignty in the Jordan Valley. The participants will visit strategic points that emphasize the importance of the Jordan Valley and the potential for settlement and infrastructure in the area.
The second part of the event will include a comprehensive discussion in which experts from various fields will discuss the challenges of sovereignty in the Valley and ways to deal with them. The topics to be discussed will include security, economics, settlement, tourism, international policy, strategic balance and demographics, among other matters. The speakers will include members of Knesset, heads of organizations, researchers, public opinion shapers and heads of settlement, including head of Jordan Valley Council David Elhayani and CEO of the Yesha Council Shira Liebman.
Yehudit Katsover and Nadia Matar, the co-chairwomen of the Sovereignty Movement and Atty. Nili Naouri, who heads the Israel Forever movement, the leaders and initiators of the special event, note that "sovereignty in the Jordan Valley is a necessary step for both the security, strategic and internal security aspects of the future of Israel, as expressed by prime ministers over the years, leaders of both Right and Left, which illustrates the broad national consensus behind taking the step of sovereignty in this area. Sovereignty in the Valley also does not constitute a demographic threat to the Jewish character of the State of Israel".
In their remarks, they mention the fact that sovereignty in the Jordan Valley was one of Prime Minister Benjamin Netanyahu's campaign promises in one of the recent elections and one of the personal declarations of commitment and policy made by the head of the National Unity party, former Defense Minister MK Benny Gantz. "We are at a time of rare historic and political opportunity to take the step and restore Israel to a Zionist momentum of settlement, security and sovereignty with a broad political consensus" say the organizers.