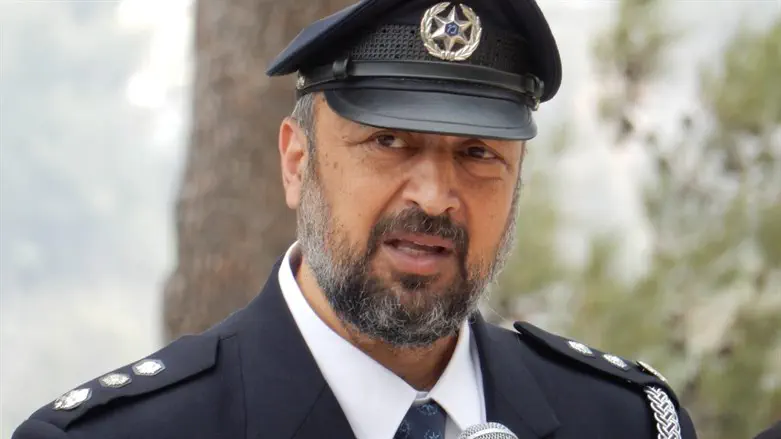 Israel Police Chief Rabbi Rami Brachyahu
Courtesy
The Chief Rabbi of the Israel Police penned an open letter on Tuesday addressed to rabbis throughout Israel urging them to advise their congregants to carry legal and licensed firearms on Shabbat.
In his letter, Rabbi Rami Brachyahu said that this measure was necessary in the wake of the recent terrorist attack in the Jerusalem neighborhood of Neve Yaakov in which seven people were murdered outside of a synagogue where most did not carry arms because of the Shabbat..
"We are learning that the religious neighborhoods and synagogues can serve as an extensive target for terrorist acts," he wrote. "This incident joins the terrorist attacks that took place in the cities of Bnei Brak and Elad last year."
He explained that after deliberating with prominent rabbis he had come to his opinion.
"In deliberation with prominent rabbis and on the recommendation of relevant police authorities, I appeal to the rabbis of Israel to instruct their communities that everyone who has a license to carry a firearm should carry that firearm with them on Shabbat, especially during prayer times in the synagogues," he said.
He also urged that synagogues should have the ability to call the police at any time if an emergency situation occurs.
"It is appropriate that every synagogue have a kosher cell phone [on the premises] that can be used to call the police if, G-d forbid, an emergency occurs. Halakhically, in any event of concern for 'risk to life,' the police must be called, even on Shabbat," he said.
"May the verse be fulfilled through us: 'The Lord shall grant strength to His people; the Lord shall bless His people with peace,'" he ended.