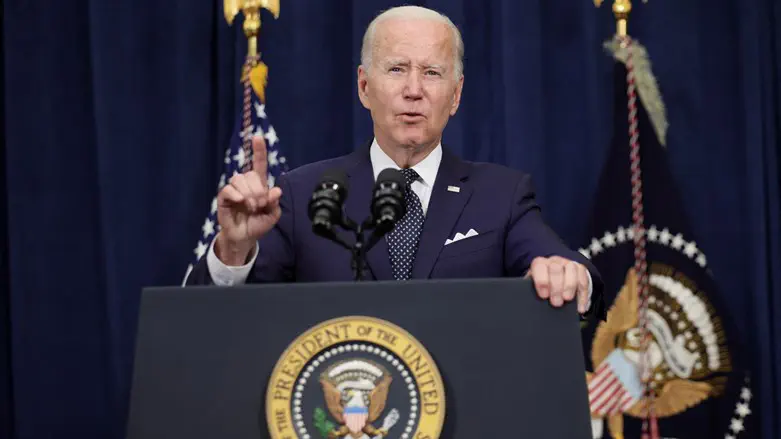 Joe Biden
REUTERS/Evelyn Hockstein
A majority of Democrats now think one term is plenty for President Joe Biden, despite his insistence that he plans to seek reelection in 2024, a new poll from The Associated Press-NORC Center for Public Affairs Research finds.
The poll, published on Monday, shows just 37% of Democrats say they want Biden to seek a second term, down from 52% in the weeks before last year's midterm elections.
While Biden has trumpeted his legislative victories and ability to govern, the poll suggests relatively few US adults give him high marks on either. Follow-up interviews with poll respondents suggest that many believe the 80-year-old's age is a liability, with people focused on his coughing, his gait, his gaffes and the possibility that the world's most stressful job would be better suited for someone younger.
Overall, the poll found, 41% approve of how Biden is handling his job as president, similar to ratings at the end of last year. A majority of Democrats still approve of the job Biden is doing as president, yet their appetite for a reelection campaign has slipped despite his electoral track record. Only 22% of US adults overall say he should run again, down from 29% who said so before last year's midterm elections.
The decline among Democrats saying Biden should run again for president appears concentrated among younger people. Among Democrats age 45 and over, 49% say Biden should run for reelection, nearly as many as the 58% who said that in October. But among those under age 45, 23% now say he should run for reelection, after 45% said that before the midterms.
The poll also shows only 23% of US adults say they have "a great deal" of confidence in Biden to effectively manage the White House. That has ticked down from 28% a year ago and remains significantly lower than 44% two years ago, just as Biden took office.
Just 21% have a lot of confidence in Biden's ability to handle a crisis, down slightly from 26% last March.
Biden has yet to make a formal announcement on 2024 run, but said after the recent midterm elections that he is targeting early this year for an official announcement.
Outgoing White House chief of staff Ron Klain hinted last week that Biden will be running for a second term in 2024, even though Biden has yet to confirm that himself.
"As I did in 1988, 2008 and 2020, I look forward to being on your side when you run for president in 2024," Klain said at a ceremony in the White House marking the transition from Klain to incoming chief of staff Jeff Zients.