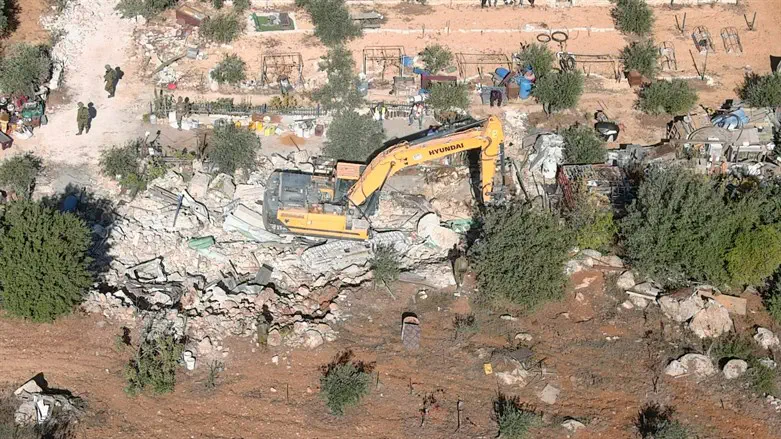 demolition of illegal building (archive)
Regavim
Shabak chief Ronen Bar and IDF Chief of Staff Herzi Halevy delivered an unusual warning to Prime Minister Binyamin Netanyahu which led to the decision to postpone the demolition of an illegal building in the Wadi Qadum neighborhood of eastern Jerusalem, Kan 11 reported.
According to the report, Bar and Halevy warned that the demolition of the structure, which currently houses about 100 people, could lead to a large-scale flare-up, especially if it is carried out during the Muslim holy month of Ramadan.
Immediately upon receiving this warning, Netanyahu immediately ordered the cancellation of the demolition that was planned for tomorrow (Tuesday), and was supposed to be carried out under the direction of National Security Minister Itamar Ben-Gvir.
A security official who participated in the talks said: ''The police work for Ben-Gvir. They wanted to carry out the demolition without exercising basic discretion."
National Security Minister Ben-Gvir's office said in response to the reports: "Minister Ben-Gvir has an orderly plan for the evacuation of the building. The media set a schedule for itself and then decided that the evacuation was postponed," his office said in a statement.
"Minister Ben-Gvir did not say that the evacuation would take place tomorrow or in another three days or five. The evacuation will happen. Because there is an order from the minister and there is rule of law in the State of Israel. If not tomorrow, then two days later. If not in a week, then in two weeks. It will happen because the laws of the State of Israel must be enforced. Period."
'