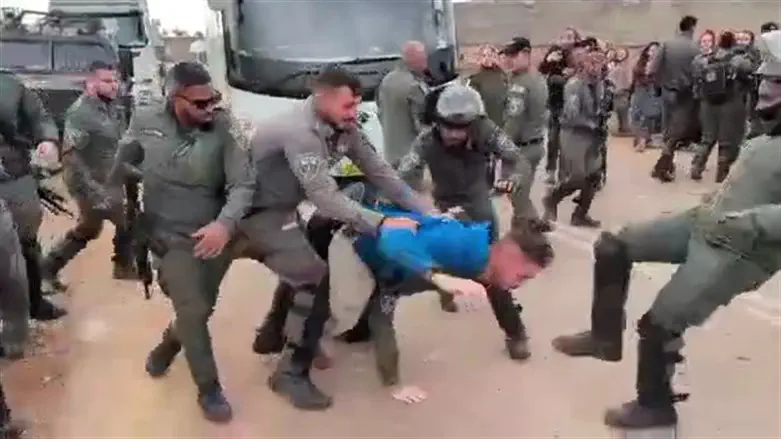 scene of the demolition
Honenu
Security forces resumed the destruction of a Jewish-owned orchard in Samaria Wednesday, despite the orders of Prime Minister Benjamin Netanyahu to halt the demolition after security forces clashed with protestors at the site this morning. Earlier, Minister in the Defense Ministry Bezalel Smotrich (Religious Zionism) had ordered the demolishing cancelled, but Defense Minister Gallant (Likud) ignored his request.
Eyewitnesses reported that the security forces behaved violently towards the young people who were at the scene of the destruction.
Prime Minister Netanyahu on Wednesday ordered the halting of the demolition of the olive grove and fruit orchard, owned by Hen Ben-Eliyahu and located in the Shilo Valley in the Binyamin district of Samaria, after a significant portion of the grove had already been demolished.
The demolition was condemned by National Security Minister Itamar Ben-Gvir (Otzma Yehudit)..
In a special statement he made, together with MK Limor Son Har-Melech, who was surrounded by police and assaulted at the scene of the incident, despite her Knesset immunity, Ben-Gvir said: "We did not sign up for this. We joined the government based on the Prime Minister's promise that it would be a fully right-wing government."
"Such a government should not avoid evacuating Khan al-Ahmar or touching buildings in eastern Jerusalem because of political considerations. A fully right-wing government cannot be a government at the expense of the rights of Jews," said Ben Gvir.