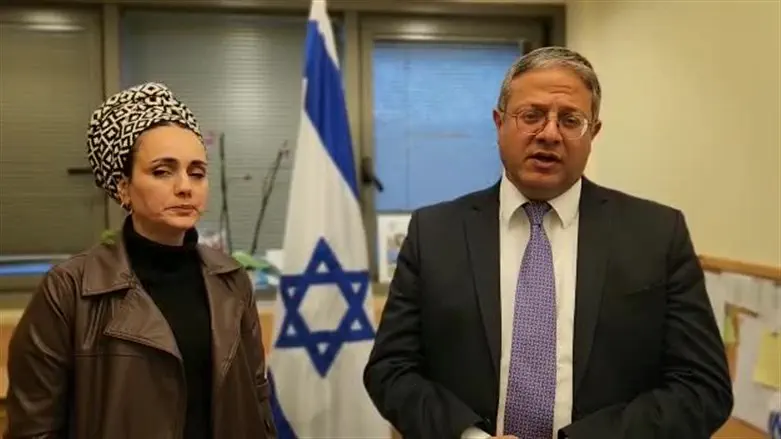 Itamar Ben-Gvir with Limor Son Har Melech
Spokespersons
Residents of Kiryat Arba, Hebron are planning a protest outside the home of Otzma Yehudit party leader and National Security Minister Itamar Ben-Gvir on Thursday, demanding a mass demonstration against the recent wave of terrorist attacks and the uprooting of a Jewish-owned vineyard in the Binyamin region on Wednesday, at which police are alleged to have used excessive violence.
An announcement that was distributed to local residents stated that, "The residents of Kiryat Arba demand a Jewish response to the blood that is being spilled like water in the streets. We demand a heavy hand against police who strike our brothers without distinguishing between friend and foe. Enough of all the devastation and destruction.
"Kiryat Arba residents plan to hold a demonstration this afternoon at half-past-four outside the home of Minister Ben-Gvir. Following the demolitions perpetrated by a right-wing government, we demand that the Land of Israel be built up and planted, and also that Kiryat Arba be further built up."
A large number of Border Police officers and officials from the Civil Administration for Judea and Samaria arrived at a Jewish-owned orchard and vineyard in Emek Shiloh on Wednesday, uprooting around 1,100 trees. Several dozen activists answered the appeal of the owner, Chen Ben Eliyahu, to come and protest the demolition; some of them sat down on the road leading to the orchard in order to prevent security forces from reaching it. One activist climbed up into one of the trees; another was arrested on suspicion of having shot a firework into the air. Another 24 received distancing orders, and there were numerous violent encounters between activists and security forces.
ח"כ סון הר מלך: אחד השוטרים פגע בי מינית
כאן רשת ב'
MK Limor Son Har Melech also arrived at the orchard and at one point, Border Police officers surrounded her to block her passage. Following the incident, she was interviewed on Kan Reshet Bet and related: "As I was trying to leave, something happened that was very difficult for me as a woman." Son Har Melech explained that she tried to push away one of the police officers surrounding her, "and what happened then is what is called a sexual assault. For them, anything goes."
Israel Police later issued a statement saying: "Following the serious incident, the senior officer ordered that at the end of the mission, an immediate investigation would be undertaken. The Border Police command views this incident with great severity and as not reflective of our professional and military values, and has made a preliminary decision to suspend three officers who were involved, until the investigation is complete."
Religious Zionism party head Finance Minister Bezalel Smotrich said he was "shocked and appalled" at what happened in Emek Shiloh. In a letter penned to the Prime Minister, he demanded that the evacuation of the area be halted immediately, adding that, "The Defense Minister blatantly violated the coalition accords and reversed my order." Ending his letter, he stressed that, "Breaching the agreements will make it very hard for the government and coalition to function."