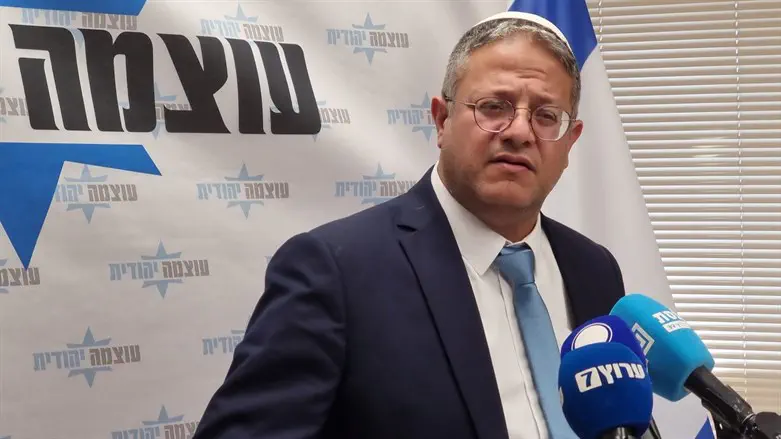 Itamar Ben-Gvir
Israel National News
The office of National Security Minister Itamar Ben-Gvir responded Monday evening to reports that Prime Minister Benjamin Netanyahu moved to postpone the demolition of an illegal building in the eastern Jerusalem neighborhood of Wadi Qadum.
"Minister Ben-Gvir has an orderly plan for the evacuation of the building. The media set a schedule for itself and then decided that the evacuation was postponed," his office said in a statement.
"Minister Ben-Gvir did not say that the evacuation would take place tomorrow or in another three days or five. The evacuation will happen. Because there is an order from the minister and there is rule of law in the State of Israel. If not tomorrow, then two days later. If not in a week, then in two weeks. It will happen because the laws of the State of Israel must be enforced. Period."
It was reported by Kan 11 last night (Sunday) that the police were preparing for the demolition of the structure, which had been slated for demolition for years. The demolition had not been carried out until now due to foreign pressure, among other things. Security officials warn that executing the demolition during a time that is already tense can bring to a round of violence in the capital.
Following the synagogue massacre in the Neve Yaakov neighborhood of Jerusalem last month, National Security Minister Ben-Gvir issued instructions to expedite the demolition of illegal buildings in the city which are not connected to acts of terror. Each structure has a demolition order against it. So far, seven of 14 structures that were ordered by Ben-Gvir to be destroyed were demolished. Last Tuesday, Arab youths from the Jabel Mukaber neighborhood blocked the entrance to the neighborhood in response to the orders.