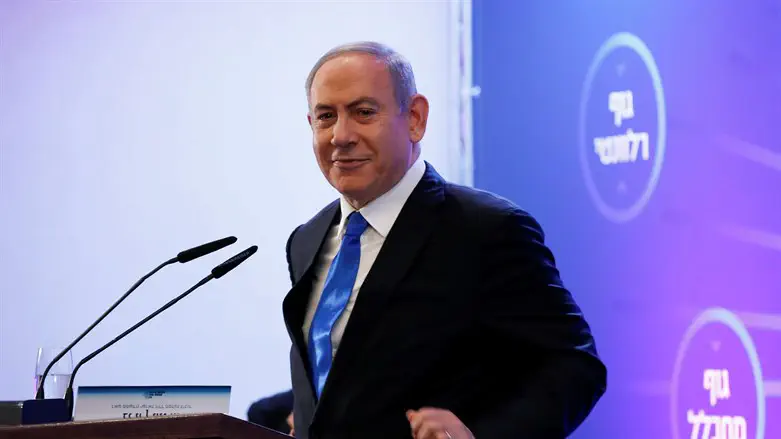 Benjamin Netanyahu
Reuters
Prime Minister Benjamin Netanyahu commented on Saturday night, before his departure from Paris to Israel, on the incitement against him by former Israel Air Force pilot Ze'ev Raz.
"In recent weeks we have witnessed a growing wave of incitement, borders are crossed every day. It seemed that all borders were crossed with threats against elected officials and me, but it turns out they were not - because today we heard and saw a threat of murder. An explicit threat for the assassination of a prime minister in Israel," said the Prime Minister.
"I know there is a debate about what endangers democracy, but it is not something that is subject to debate - it is a real threat to democracy," Netanyahu added.
He stressed, "I expect the law enforcement agencies and the security agencies, who spoke clearly and sharply during the previous government about much less serious phenomena, to come out with at least the same severity and with the same clarity against this horrifying phenomenon. I expect the law enforcement agencies to act immediately against those who incite or threaten with murder, and I also expect the leaders of the opposition to speak with the same firmness and with the same intensity that I spoke."
"We are in difficult times and we need intentions to do what is required of us as other public leaders. We must not be silent about this matter," Netanyahu concluded.
Raz, one of the leaders of the anti-Netanyahu protest movement and a former IAF pilot, seemingly called to murder the Prime Minister on the charges of "rodef", a traditional Jewish law that allows bystanders to preemptively kill a potential murderer.
"I am amazed by Hodek's mildness. Only defense with a weapon? Passiveness? Cupping therapy for the dead," he wrote on Facebook, referring to Attorney David Hodek, who said last week, "I won't refrain from using live fire if they force me to live under a dictatorship."
Raz wrote, "If a Prime Minister gets up and takes the authority of a dictator, that Prime Minister is a man of death, it's that simple, together with his ministers and those who work with him. We also have to have the law of 'rodef.'"
"My rodef law states: If a man, Israeli or foreign, takes over my county and rules it undemocratically, there is an obligation to kill him. It's not polite, and it makes me shudder, but the other option is many innocent deaths, and it is better to kill criminals. I am preparing a detailed declaration on the matter."
On Saturday night, Israel Security Agency (Shin Bet) chief Ronen Bar spoke with the Commissioner of the Israel Police, Yaakov Shabtai, amid the rise in violent and incitant discourse against elected officials in general and the Prime Minister in particular.
In the conversation, Bar noted that, in recent days, a rise in the amount and severity of public remarks, with emphasis on social media, which call for physical harm and violent action against the Prime Minister and other elected officials was noticed.
The two concluded that a zero-tolerance policy would be taken by law enforcement against anyone who incites violence or calls to harm public figures or elected officials, as well as anyone who calls to harm protesters.