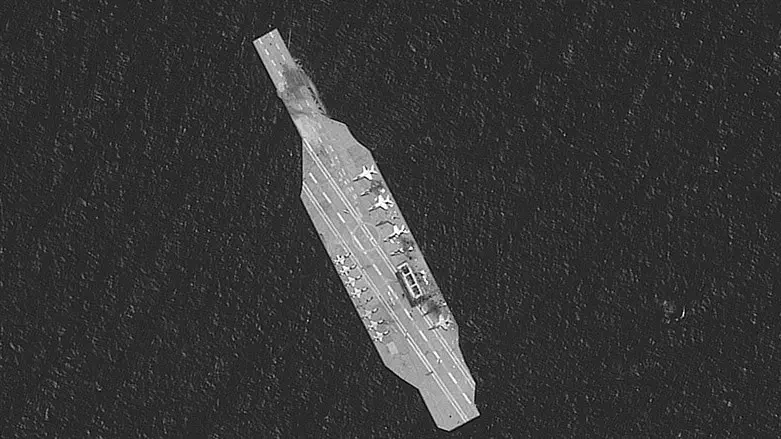 Iranian mockup aircraft carrier
Reuters
The US State Department is closely monitoring a claim by the Iranian regime that it has sent two navy warships to Brazil whose ultimate destination is the Panama Canal where the Islamic Republic aims to establish a permanent military presence.
A spokesperson for the State Department said on Tuesday that the government was closely following the announcement by the Iranian navy.
"We continue to monitor Iran's attempts to have a military presence in the Western Hemisphere," the spokesperson told Fox News.
The state-controlled Tehran Times published a report on Sunday that claimed "Iran's 86th flotilla warships is now sailing along the western shores of Latin America, the Navy second-in-command said."
The report stated that Iranian Rear Adm. Hamzeh Ali Kaviani told Iran's Press TV that the warships will soon dock in Brazil as a show of Iran's "military might."
The newspaper added that "the military vessel is reportedly equipped with anti-ship cruise missiles, torpedoes and naval cannons. Makran is a forward base ship weighing 121,000 tons. The warship can carry five helicopters and is employed for providing logistical support for the combat warships."
In early January, the head of the Iranian navy, Rear Adm. Shahram Irani, told Fars News that in 2023, "we are planning to be present in the Panama Canal."
The Panama Canal is a vital shipping lane for the West and the global economy. An Iranian military presence in the area would be a direct threat to US and international trade and world markets. According to Forbes, approximately 20 percent of the world's shipping is registered in Panama by deadweight tons.
Rep. Maria Elvira Salazar (R-FL) blamed the Biden administration for "supporting the Iran-friendly socialist and left-wing regimes in Latin America."
"The Biden administration should be strengthening political forces committed to keeping our hemisphere free of antisemitic terror," she told Fox News.